AMAZING PEPPER STEAK STIR FRY
Serves: 4
Prep Time: 5 mins
Cooking Time: 15 mins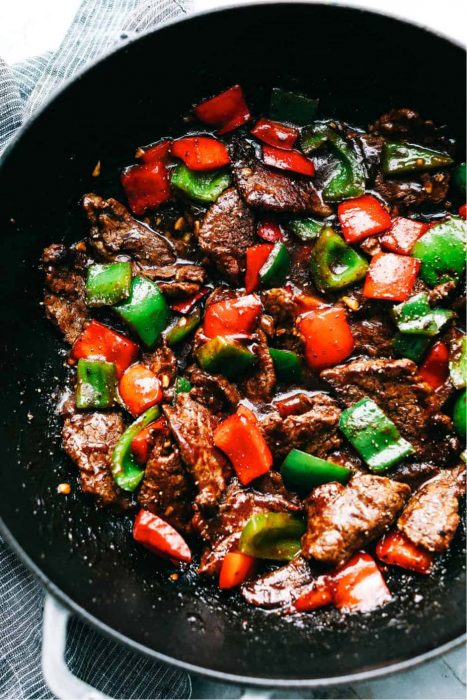 INGREDIENTS
2 tbsp olive oil divided
1 red pepper cut into 1 inch cubes or strips
1 green pepper cut into 1 inch cubes or strips
300g beef strips
3 garlic cloves minced
30g brown sugar
120ml soy sauce low sodium
2 tsp sesame oil
1 tsp ground ginger
1 tbsp flour
METHOD
In a medium sized pan or wok over medium high heat add 1 tablespoon olive oil. Add the peppers and cook 1-2 minutes until tender. Remove and set aside on a plate.
Turn the heat to high and add the steak and cook on each side to sear the beef and reduce heat to medium high and continue to cook until no longer pink and brown on each side.
In a small bowl, whisk the garlic, brown sugar, soy sauce, sesame oil, ginger and flour.
Add the peppers back to the pan and add the sauce. Let simmer for 1-2 minutes until the sauce starts to thicken.
Serve over rice.