BACON & BROWN SUGAR PORK TENDERLOIN
Serves: Serves 4
Prep Time: 8 mins
Cooking Time: 15 mins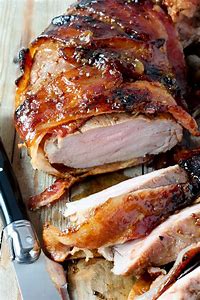 INGREDIENTS
1 pork tenderloin
3 tablespoons brown sugar
2 teaspoons salt
1/2 teaspoon smoked or regular paprika
1/4 teaspoon cayenne pepper
6 slices bacon
1 tablespoon vegetable oil
100g mango chutney
2 tablespoons whole grain or Dijon mustard
METHOD
Method
Arrange a rack in the middle of the oven and heat to 180° (160° fan oven). Using a sharp knife, remove the silverskin from the pork tenderloin. Pat the tenderloin dry with paper towels and set aside.

Combine the brown sugar, salt, paprika, and cayenne in a small bowl. Rub all of the mixture into the pork tenderloin. Wrap the tenderloin with the strips of bacon, securing along the sides with toothpicks.

Heat the oil in a large cast iron pan, or other ovenproof pan. over medium-high heat until shimmering. Add the bacon wrapped tenderloin and sear undisturbed until deep caramel brown, 6 to 8 minutes. Flip the tenderloin and sear until the other side is browned.

Mix the chutney and mustard in a small bowl and brush generously over the top of the tenderloin. Transfer the pan to the oven and cook the tenderloin for approx. 10 to 14 minutes.

Remove from the oven, loosely cover with foil, and set aside to rest for 10 to 15 minutes to allow the tenderloin to finish cooking and for the juices to redistribute into the meat. Remove the toothpicks and cut crosswise into 1/4- to 1/2inch thick slices. Serve with any leftover chutney on the side.