BAKED LAMB CHOPS WITH ROASTED ROOT VEGETABLES
Serves: Serves 4
Prep Time: 20 minutes
Cooking Time: 30 minutes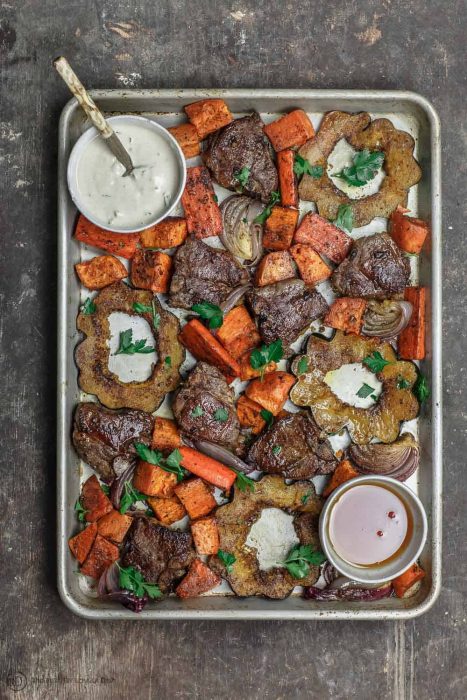 INGREDIENTS
8 lamb loin chops, each about 1 ½ inch in thickness
Salt
1 head garlic, peeled and minced
70ml extra virgin olive oil, more if needed
2 ½ tsp ground allspice, divided
2 tsp black pepper, divided
2 tsp smoked paprika, divided
1 tsp ground nutmeg,
divided 1 Butternut Squash, peeled and cubed
1 large red onion, peeled, halved then thickly sliced
1 large sweet potato, peeled and cubed
2 carrots, peeled, cut into large pieces
3 tbsp white wine vinegar
Honey
Fresh parsley for garnish
METHOD
Season lamb chops with salt on both sides. Set aside at room temperature while you prepare the remaining ingredients and preheat oven to 200 °C.

In a large bowl, combine garlic, extra virgin olive oil, 1 tsp allspice, 1 tsp black pepper, 1 tsp paprika, and ½ tsp ground nutmeg. Mix well. (leave rest of spices for later.)

Peel and cut squash in half crosswise, and scoop out the seeds. Now, take each half and cut into ½ inch cubes. Prepare all vegetables to similar size.
Add the vegetables to the marinade bowl and remove with slotted spoon to transfer them to a large sheet pan. Season with salt.

To the marinade bowl, add more extra virgin olive oil. Add white wine vinegar, and the remaining spices. Mix well. Add lamb chops in and toss to coat. Set aside to marinate.

Bake Vegetables. Place vegetables in heated oven and bake for 15 minutes or so.

Brown Lamb then Add to Vegetable Pan. When 15 minutes have passed, remove the vegetables from oven and set near you (leave oven on.) Heat a little bit of extra virgin olive oil in a large skillet over medium-high heat until shimmering but not smoking. Add lamb and brown on both sides (about 3 minutes per side.) Transfer lamb to the vegetable pan, and return to heated oven to bake for 10 minutes (lamb will be mediumrare to medium. Bake a little longer for medium-well.)

Drizzle with honey. When ready, remove pan from oven and immediately drizzle honey all over the lamb and vegetables. Garnish with parsley.