BANGERS BRAISED IN CIDER
Serves: Serves 4-6
Prep Time: 10 minutes
Cooking Time: 20-30 minutes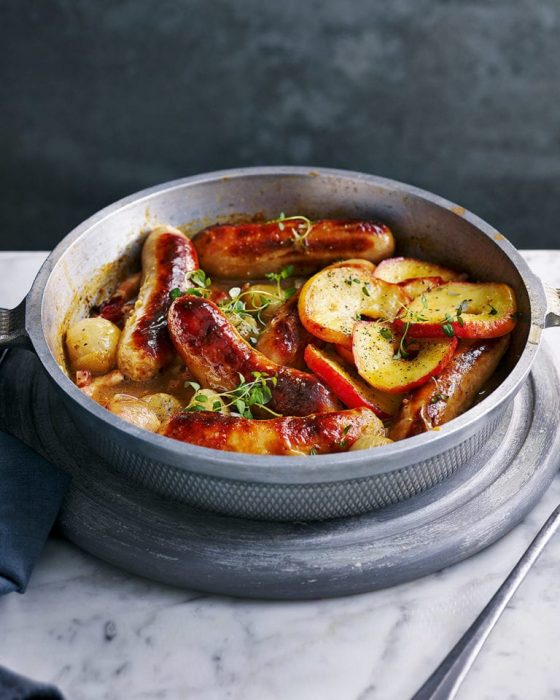 INGREDIENTS
900g of our Gold Award Farm Premium Pork Sausages
2 Bay leaves
2 medium Cox's apple
2 cloves Garlic
450g Shallots, small
2 heaped tsp Plain flour
1 Little oil
750 ml strong dry Cider Butter
400g Smoked Lardons
2 rounded teaspoon freshly chopped thyme, plus a few sprigs
METHOD
Method
First place the casserole over a medium heat, add a little oil and when it's hot, brown the sausages all round – it's important to get them well browned.

Then, using a draining spoon, remove them to a plate whilst you brown the lardons and shallots lightly.

When that's done, sprinkle in the flour to soak up the juices, then gradually stir in the cider. Now pop the sausages back in along with the garlic, bay leaf, fresh thyme and sprigs. Add some freshly milled black pepper (no salt needed).

Now put a lid on as soon as it begins to simmer, then transfer it to the oven for 30 minutes. After that remove the lid and let it continue to cook for a further 20–30 minutes.

Towards the end of the time, fry the apple rings in butter till golden and soft, and garnish the casserole with them. This is obviously going to need some very creamy, fluffy mashed potatoes.