BONFIRE BANGERS AND BARBECUE BEAN CASSEROLE
Serves: 6
Prep Time: 20 mins
Cooking Time: 4 hrs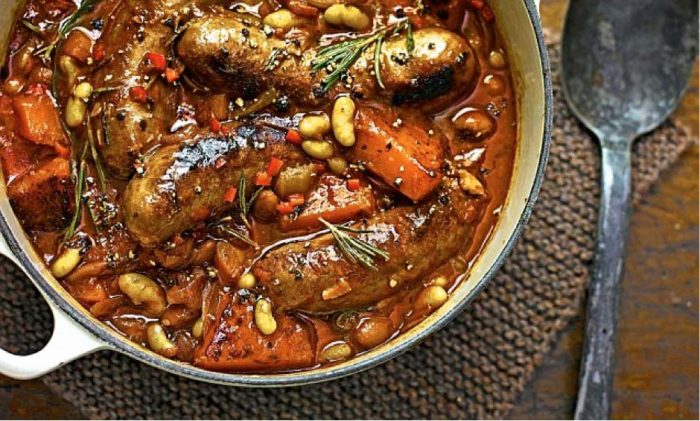 INGREDIENTS
2 to 3 tablespoons rapeseed oil
450g pork sausages
100g chorizo sausage, skinned and roughly chopped
4 onions, peeled and sliced thickly
4 cloves garlic, peeled and finely diced
1 red pepper, deseeded and cut into strips
2 x 400g tins of mixed beans in tomato sauce
4 tablespoons barbecue sauce
Salt and pepper to taste
Serve with mashed potatoes or crusty bread!
METHOD
Turn your slow cooker on to high.
Heat 1 tablespoon of rapeseed oil in a large frying pan and add the sausages, cook them over a medium heat until they are browned. Drain and remove them from the pan and set to one side.
In the same frying pan, add more rapeseed oil and gently fry the chorizo, onions and garlic together until just soft and the chorizo has started to release its oils. Add the red pepper and cook for a further 4 to 5 minutes, stirring all the time. Remove the mixture from the pan and spoon it into the slow cooker.
Put the mixed beans into a bowl and add the barbecue sauce, mix well. Pour the barbecue beans into the slow cooker and mix them with the onion mixture. Season to taste with salt and pepper.
Add the sausages by placing them on top.
Replace the slow cooker lid and cook for 3 to 4 hours on high, or on medium for 5 to 6 hours.