EASY LEMON CHICKEN STIR FRY
Serves: 4
Prep Time: 10 mins
Cooking Time: 20 mins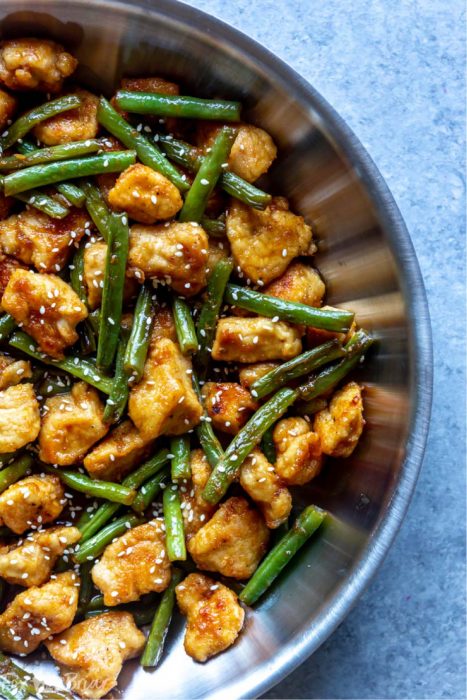 INGREDIENTS
For The Stir Fry Sauce Sauce:
60ml soy sauce
60ml honey
1 large lemon (2 if they're smaller)
1 teaspoon toasted sesame oil
1 tablespoon grated ginger root
4 garlic cloves minced
1 teaspoon chilli garlic sauce
680g chicken breast cut into 1 inch pieces
60g flour
1 teaspoon salt
¼ teaspoon pepper
280g green beans trimmed and cut in half
1-2 tablespoons vegetable oil
1 teaspoon sesame seeds optional, for garnish
METHOD
Whisk together all ingredients for the sauce, using the juice from the lemon and 1 tsp of the zest and set aside.
Toss the chicken with the flour, salt and pepper, until chicken is fully coated. Set aside.
Heat a sauté pan over medium high heat. Add one tablespoon of oil. Cook the green beans, stirring often, until starting to blister, 3-4 minutes. Remove from pan and reserve on a plate.
Add the second tablespoon of oil to the pan. Add the chicken, but do not overcrowd the pan. Cook in two batches if necessary. Cook chicken 3-4 minutes per side, until cooked through.
Add the green beans back to the pan with the chicken. Pour in the sauce. Stir, scraping up and browned bits on the bottom of the pan. Cook for 2-3 minutes, until chicken and green beans are fully coated and sauce has thickened. Garnish with sesame seeds and serve over rice if desired.