Epic Chunky Beef and Mushroom Pie
Serves: 6
Prep Time: 15 mins
Cooking Time: 2 hrs 30 mins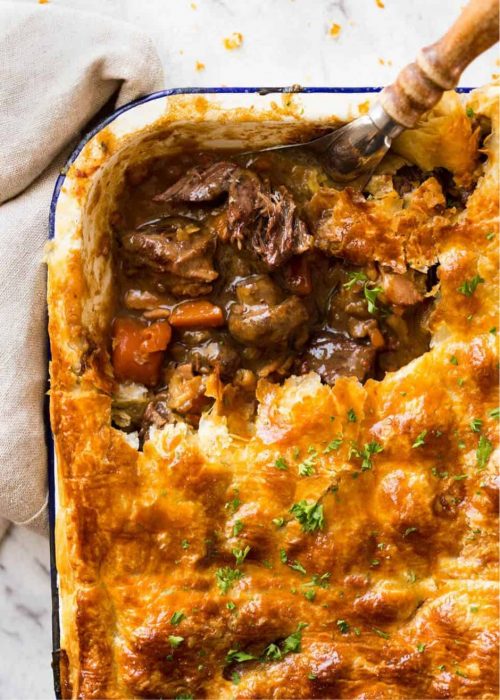 INGREDIENTS
20g dried porcini mushrooms (whole or chopped)
312ml boiled water
21b braising beef
1-2 tbsp veg oil
2 cloves garlic, minced
1 onion, finely chopped
1 celery stalk, finely chopped
1 carrot, finely chopped
3 carrots, halved lengthways & cut into 1.5cm chunks
100g flour
300ml dark ale (or use red wine, guinness, stock)
500ml beef stock
3 sprigs of thyme (or 1tsp dried thyme)
2 bay leaves
200g bacon
300g-400g button mushrooms
1-2 sheets puff pastry
1 egg yolk
METHOD
Soak porcini in hot water for at least 30 minutes. Strain and reserve soaking liquid. Roughly chop porcini.
Sprinkle beef with salt and pepper. Heat 1 tbsp oil in a large pot. Brown beef all over in batches and set aside. Turn heat down to med-low. If looking dry, add more oil. Add onion and garlic, cook for 2 minutes. Add finely chopped carrots and celery, cook for 6 minutes or until softened. Add carrot chunks and cook for 2 minutes. Add flour and stir through.
Add ale, beef stock, and stir to dissolve the flour. Add thyme, bay leaves, porcini, reserved porcini soaking liquid (don't tip in gritty bits settled at bottom) and cooked beef. Turn heat up slightly, mix, bring to simmer, then cover. Adjust heat so it is simmering gently.
Cook for 1 hr 45 minutes or until beef is tender.
Meanwhile, cook bacon over high heat until golden. Remove and reserve bacon fat. Add button mushrooms and cook for 5 minutes until golden. Return bacon to mushrooms, give a stir together then add to the beef stew.
Simmer stew, uncovered, for 15 minutes until mushrooms are tender. Then remove from stove and cool.TO COOK: Preheat oven to 200C/390F. Top with puff pastry and brush with egg yolk. Cut a few slits in the surface then bake for 30 – 35 minutes until deep golden and the filling is piping hot in the middle. Rest for 5 minutes before serving!