GARLIC SRIRACHA PORK STIRFRY
Serves: Serves 4
Prep Time: 20 minutes
Cooking Time: 5-10 minutes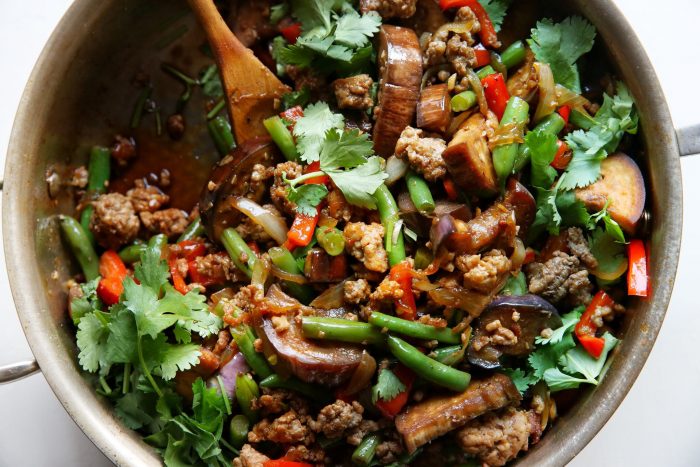 INGREDIENTS
450g lean minced pork
1 tbsp sunflower oil
2 cloves garlic, minced
1 onion, sliced
1 aubergine, cut into half moons
1 red pepper, cut into strips
50ml soy sauce
2 tbsp packed brown sugar
4 tsp. sriracha
225g green beans, cut into 2-inch pieces
170g freshly chopped coriander
METHOD
In a large pan over medium-high heat, brown minced pork, breaking up with a wooden spoon. Transfer to a plate and set aside.

Return pan to medium heat and warm oil. Sauté garlic and onion until softened, about 4 minutes, then increase heat to medium-high and stir-fry aubergine and pepper for 2 to 3 minutes.

Meanwhile, in a small bowl combine soy sauce, brown sugar and Sriracha; add to the skillet with green beans and pork. Sauté until green beans are bright green and meat is warmed through.

Top with coriander and serve immediately with rice or noodles.