GRILLED BONE MARROW
Serves: Serves 4
Prep Time: 5 minutes
Cooking Time: 1 hour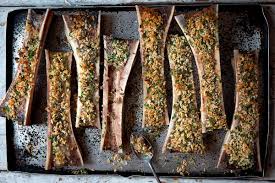 INGREDIENTS
3 tbsp Vegetable Oil
4-6 sections of 2 inch Beef Marrow Bones (1-1.5kg bags) split lengthways (known as a canoe) plus a chuck of bone marrow
4 large sweet onions (approx 1kg) peeled and sliced
Smoked Maldon sea salt
Freshly ground black pepper
METHOD
This homely recipe takes bone marrow and transforms it into a rich and mouthwatering dish. Serve the grilled bone marrow simply with sea salt and toasted bread.
Heat a couple of tablespoons of vegetable oil and a small chunk of bone marrow in a large heavy pan, add 4 finely sliced onions and, stirring regularly, cook low and slow for an hour or so, until brown, sweet and soft, before seasoning to taste.
Lightly season the exposed side of 4 marrow bones that have been split lengthways (by your butcher) and bake in a hot oven (200°C/400°F/ Gas 6) for 6 to 8 minutes until the marrow is soft.
Top the marrow with your slow cooked onions and place under the grill until lightly singed on top. Sprinkle with sea salt (smoked sea salt if you have it) and serve with toasted sourdough bread.