HOMEMADE BURGERS WITH JALAPEÑO RAREBIT
Serves: 4
Prep Time: 10 minutes
Cooking Time: 15 minutes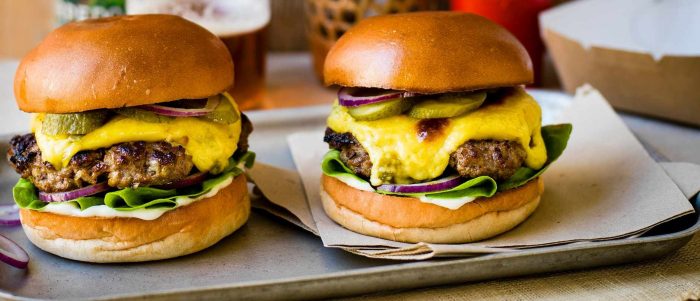 INGREDIENTS
Beef mince (around 10% fat) 400g
1 small onion, grated
1 tsp garlic salt
Oil for frying
Mayonnaise to serve
4 Brioche burger buns, warmed through
Soft lettuce leaves
Red onion slices to serve
Gherkin slices to serve
JALAPEÑO RAREBIT
25g butter
25g plain flour
150ml Mexican lager (Sol, Corona for example)
1 tbsp American mustard (yellow mild or dijon)
100g cheddar grated
2 tbsp pickled jalapeño chopped
METHOD
To make the rarebit mixture, melt the butter in a pan and stir in the flour. Cook over a low heat for 4-5 minutes until the mixture is light-straw coloured.
Gradually add the lager until you have a smooth sauce. Stir in the mustard then add the cheddar and stir until melted.
Stir in the jalapeños. Pour into a clingfilm – or baking paper lined 18cm x 18cm tin, spread out evenly and put in the fridge. When completely set and cold, cut into 4 squares.
To make the burgers, put the mince, onion and garlic salt in a bowl. Season with pepper and mix well then divide into four balls. Use a spatula to smash each into a rough burger.
Heat a large, heavy frying pan to hot. Oil one side of the burgers then put them into the pan, oiled-side down. Cook for 2 minutes, on each side, squashing them flat as you go.
Put a rarebit slice on each and grill on high for 2-3 minutes until bubbling.
Spread mayo on each burger bun base then add lettuce and onion. Sit a burger on top then add the pickles and bun top.