HOMEMADE CHICKEN GOUJONS
Serves: Serves 4
Prep Time: 4 minutes
Cooking Time: 20 minutes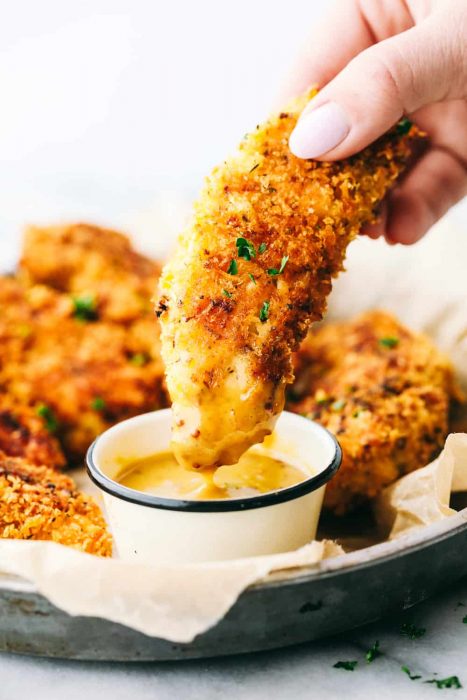 METHOD
It is crucial to season every layer of the breading on these chicken strips.
STEP ONE – PREPARE THE BREADING STATION
In a shallow dish, mix flour with seasoned salt.
In a second shallow dish, mix together the eggs with additional seasoned salt.
In a final shallow dish, mix together the panko bread crumbs with a bit more seasoned salt.
STEP TWO – BREAD THE CHICKEN STRIPS
Place the chicken strips into the flour mixture and flip to coat evenly in flour. Be sure to shake off excess flour. You only want the chicken to be dusted in flour. If it is caked in flour, the taste will not be pleasant and the breading may become gummy.
Place the floured chicken strip into the egg wash and coat both sides. Shake off excess egg wash.
Finally, place the chicken strip into the bread crumb mixture and coat evenly, using your hands to help breadcrumbs to adhere to the chicken strip.
STEP THREE – BAKE
Place the breaded chicken strips onto a greased baking rack over a rimmed baking sheet.
Spray with a bit of cooking spray for a super golden exterior.
Bake at high heat until browned and internal temperature reaches 165 degrees.
They are also delicious cut up and served on a salad or served on a bun for an easy crispy chicken sandwich.