LAMB SHANKS BRAISED IN RED WINE, THYME AND ROSEMARY
Serves: Serves 6
Prep Time: 10 minutes
Cooking Time: 3 hours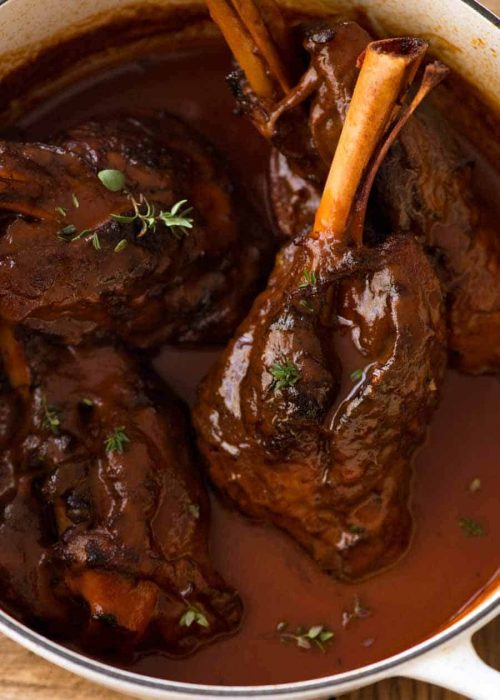 INGREDIENTS
Salt and freshly ground black pepper to taste
2 tablespoons olive oil
2 onions, chopped
3 large carrots, cut into 1cm slices
10 cloves garlic, minced
1 bottle red wine
2 (400g) tins whole peeled plum tomatoes, undrained
175ml water
275ml beef stock
2 to 3 tablespoons chopped fresh rosemary
1 tablespoon chopped fresh thyme
METHOD
Season shanks with salt and pepper. Heat oil in heavy large pot or casserole over medium-high heat. Working in batches, brown shanks on all sides, about 8 minutes. Transfer shanks to a plate.

Add onions, carrots and garlic to pot and saute until golden brown, about 10 minutes. Stir in wine, tomatoes, water and beef stock. Season with rosemary and thyme. Return shanks to pot, pressing down to submerge. Bring to the boil, then reduce heat to medium-low. Cover, and simmer until meat is tender, about 2 hours.
Remove cover from pot. Simmer about 20 minutes longer. Transfer shanks to platter, place in a warm oven. Boil juices in pot until thickened, about 15 minutes. Spoon over shanks.

For ultimate comfort serve with creamy, fluffy, mashed potatoes and garden peas.