MELT IN MOUTH BEEF SHIN STEW
Serves: Serves 4
Prep Time: 10 minutes
Cooking Time: 3 hours 25 minutes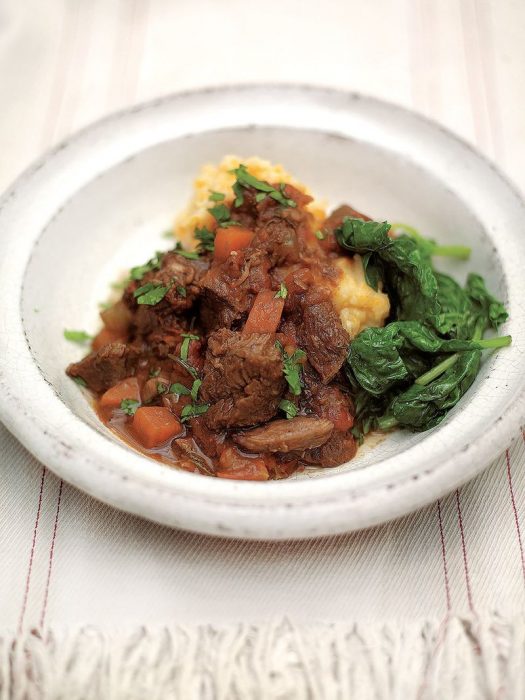 INGREDIENTS
1 kg Yorkshire shin of beef, bone removed, trimmed and cut into 5cm pieces
olive oil
2 red onions , peeled and roughly chopped
3 carrots , peeled and roughly chopped
3 sticks celery , trimmed and roughly chopped
4 cloves garlic , unpeeled
a few sprigs fresh rosemary
2 bay leaves
1 small handful dried porcini
1 stick cinnamon
sea salt
freshly ground black pepper
1 tablespoon flour
2 x 400 g good-quality tinned plum tomatoes
⅔ bottle Chianti
METHOD
Preheat your oven to 180ºC/350ºF/gas 4.
In a heavy-bottomed ovenproof saucepan, heat a splash of olive oil and gently fry the onions, carrots, celery, garlic, herbs, porcini and cinnamon for 5 minutes until softened slightly.
Meanwhile, toss the pieces of beef in a little seasoned flour, shaking off any excess. Add the meat to the pan and stir everything together, then add the tomatoes, wine and a pinch of salt and pepper.
Gently bring to the boil, cover with a double-thickness piece of tinfoil and a lid and place in your preheated oven for 3 hours or until the beef is meltingly tender and can be broken up with a spoon.
Taste and check the seasoning, remove the cinnamon stick and rosemary sprigs and serve.