PAN SEARED SIRLOIN STEAK WITH BALSAMIC HERB CREAM SAUCE
Serves: Serves 2 - 4
Prep Time: 5 minutes
Cooking Time: 18 minutes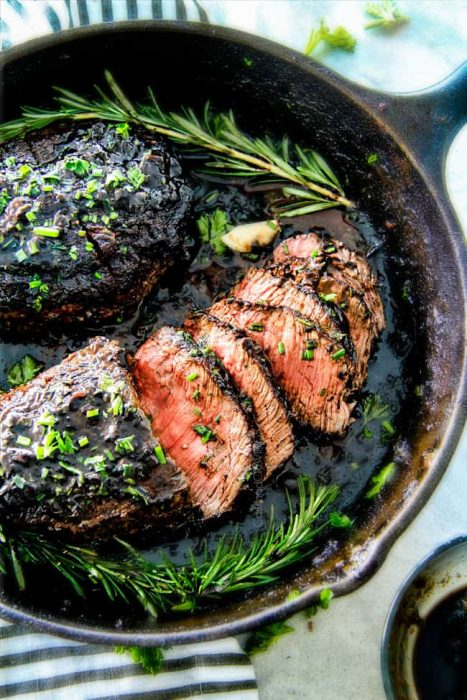 INGREDIENTS
2 x 8oz Dry Aged Sirloin Steaks 1 ½" thick, room temperature
Coarsely ground salt and pepper
1 tablespoon Vegetable oil
3 tablespoons unsalted butter
1 sprig of rosemary (optional)
3 garlic cloves, peeled, left whole
Balsamic Herb Cream Sauce
2 tablespoons minced shallot
1 garlic clove, minced
120ml chicken stock
120ml double cream
1 tablespoon balsamic vinegar
1 teaspoon Dijon mustard
1 ½ tablespoons chopped fresh chives
1 ½ tablespoons chopped fresh parsley
1 tablespoon unsalted butter
Salt and pepper to taste
METHOD
Remove steaks from the fridge 1 hour before cooking to bring to room temperature.

Pat steaks dry with paper towels. Season well on all sides with freshly cracked salt and pepper, pressing salt and pepper into steaks so it sticks.
Heat a heavy pan over high heat. Add vegetable oil. When it starts to smoke, reduce heat to medium-high and add steaks. Cook for 4 minutes without moving. Add butter, garlic and rosemary. Flip steaks with tongs (not a fork, you don't want to pierce your steak), and continue to cook for 4 more minutes. Right after you flip the steaks, spoon melted butter over the steaks. Continue to baste steaks for the remaining cooking time, tilting the pan as needed to spoon the butter.

Check the internal temperature of the steaks after they have cooked a total of 8 minutes (they should be medium rare at this point). If you wish to continue to cook your steaks, reduce heat to medium and continue to cook steaks to desired temperature, about 3-7 more minutes, flipping one more time and continuing to baste.
Transfer steaks to cutting board, and baste one more time. Loosely tent with foil. Let rest at least 10 minutes before slicing against the grain.

SAUCE

Remove rosemary and garlic from skillet. Drain off all but 1 tablespoon fat/juices. Heat over medium high heat. Add shallot and sauté one minute. Add garlic and sauté 30 seconds.
Add chicken stock and simmer, stirring occasionally for 3 minutes to reduce to about 60ml. Stir in the cream, balsamic vinegar and Dijon.
Simmer until slightly thickened, about 2 minutes. Remove from heat and stir in 1 tablespoon butter until melted followed by fresh chives and fresh parsley. Season with salt and pepper to taste if desired.
Pour over steak or serve along side.