ROAST LEG OF LAMB WITH HONEYCOMB AND MINTED JERSEY ROYALS
Serves: 4
Cooking Time: 1 hr 20 mins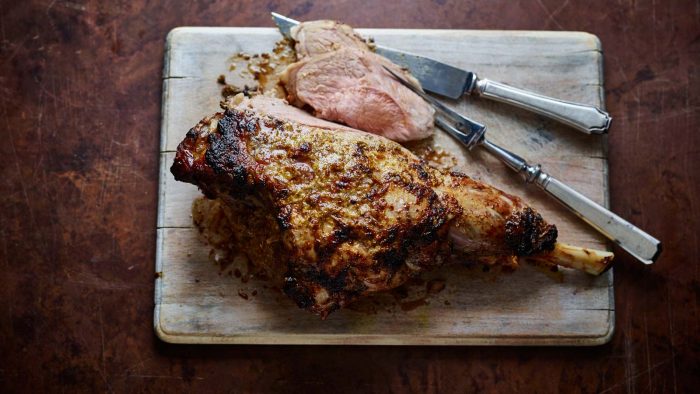 INGREDIENTS
2kg leg of lamb
3 sprigs of rosemary
3 sprigs of thyme
4 garlic cloves, roughly sliced
salt & pepper
450g of Jersey Royal potatoes
5 sprigs of mint
500g of frozen garden peas
85g of butter
150g of honeycomb
METHOD
Preheat the oven to 250°C/Gas mark 9
Snip the rosemary and thyme into small sprigs. Using a small knife, pierce six or seven holes in the lamb and stud with the rosemary, thyme and garlic.
Season the lamb with salt and pepper and roast in the oven for approximately 1 hour or until cooked to your liking.
Towards the end of the cooking time, cook the Jersey Royals in boiling salted water with three of the mint stalks, for 10 – 15 minutes or until tender.
Place the frozen peas in boiling water and bring the water quickly back to the boil. Cook for approximately 2 – 5 minutes or until just tender.
Chop the remaining mint and mix together with the warm Jersey Royals and butter.
Carve the lamb and serve with the potatoes, peas and a scattering of fresh honeycomb.