SLOW ROASTED LAMB SHAWARMA
Serves: Serves 8
Prep Time: 20 minutes
Cooking Time: 4 hours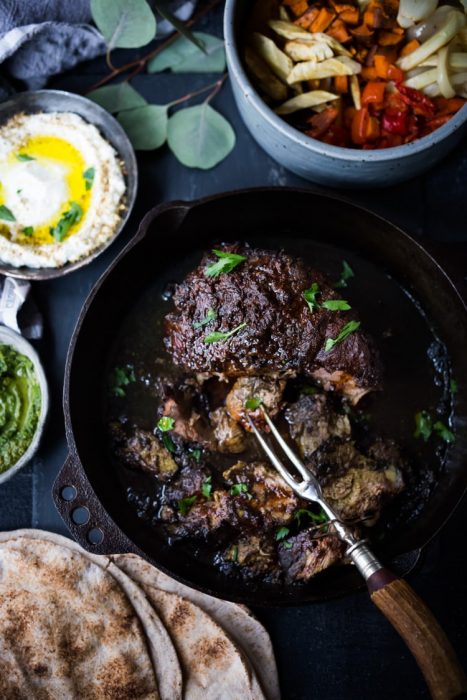 INGREDIENTS
3 lb leg of lamb, boneless
1 large onion, sliced into thick ½ inch slices
1 cup water
Shawarma Marinade
8 garlic cloves, whole
1 shallot, quartered
6 tablespoons olive oil
2 tablespoons ground cumin
2 tablespoons ground coriander
1 tablespoon sumac
1 teaspoon paprika
1 teaspoon turmeric
1 teaspoon allspice
1 teaspoon ground ginger
½ teaspoon cinnamon
½ teaspoon cardamon
2 ½ teaspoons kosher salt
METHOD
Preheat oven to 350 F (Plan on full 4 ½ hours baking time, but check at 3 ½ hours).

Place marinade ingredients in a food processor and pulse into a paste, scraping down sides to incorporate well.

Place onion slices in the bottom of a casserole dish to create a base for the lamb. Pat the lamb dry and coat all sides really really well with the paste, including the inside where the bone was removed. Roll it back up and place it on the bed of sliced onions, seam side down, fatty side up. Let this marinate on the counter until the oven is hot, or up to 2 hours. You could also wrap it in plastic wrap and refrigerate 24 hours.

Pour 250ml water into the casserole dish and cover with a heavy lid or foil and place in the oven for 2 ½ hours. Uncover the roast to let the top get golden, and continue cooking 1 hour. Check the roast. If the pan seems dry, add a another 125ml water. If the crust seems like its getting too dark, cover lightly with foil. Continue cooking until the lamb pulls apart easily with tongs or two forks. Possibly another hour. If it's still feeling tough, continue cooking until it is tender, checking every 30 minutes, making sure to top is not burning or that is out of liquid in the bottom. Let stand a few minutes before serving.

Serve with your choice of: Basmati Rice, pitta bread, simple roasted veggies, labneh, tahini sauce, yogurt, tomatoes and/ or cucumbers.