SOUTHERN STYLE BABY BACK PORK RIBS
Serves: 4
Prep Time: 10 minutes
Cooking Time: 3 hours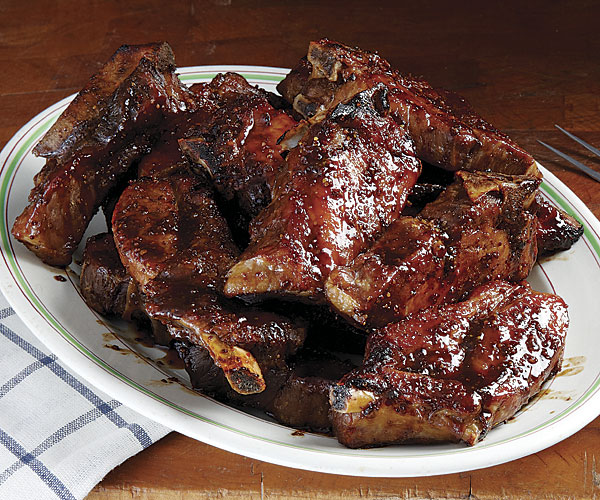 INGREDIENTS
Dry rub
2 tbsp sea salt flakes
1 ½ tbsp sweet paprika
2 tsp smoked paprika
2 tsp garlic powder
1 tsp dried oregano
1 tsp celery salt
1 tsp chilli flakes
Barbecue sauce
½ red onion, finely chopped
2 cloves garlic, finely chopped
2 tbsp soft brown sugar
1 tsp sweet paprika
½ tsp smoked paprika
125 ml (4 fl oz/½ cup) tomato ketchup
60 ml (2 fl oz/¼ cup) cider vinegar
60 ml (2 fl oz/¼ cup) pure maple syrup
METHOD
1. Preheat a hooded barbecue grill to low heat.
2. To make the dry rub, combine the ingredients in a small bowl.
3. Coat the ribs in the dry rub, then wrap in foil. Place 2–3 racks in each foil package for easy handling.
4. Place the foil packs onto the grill and cover. Cook for 2 hours, turning every 30 minutes.
5. Meanwhile, to make the barbecue sauce, combine the ingredients in a small saucepan with 250 ml (8½ fl oz/1 cup) water. Cook over low heat for 20–25 minutes until thick. Reserve half the sauce for serving.
6. Remove the foil packages from the grill. Increase the heat to medium and lightly grease with oil. Carefully unwrap the ribs and discard the foil. Brush the ribs all over with the remaining barbecue sauce and return to the grill. Cook, basting and turning regularly, for 30 minutes, until the ribs are browned and sticky, caramelised and charred.
7. Pile the ribs onto a serving platter and serve with the reserved barbecue sauce and, if desired, Grilled cabbage salad.