Meet Greg, our Development Consultant Chef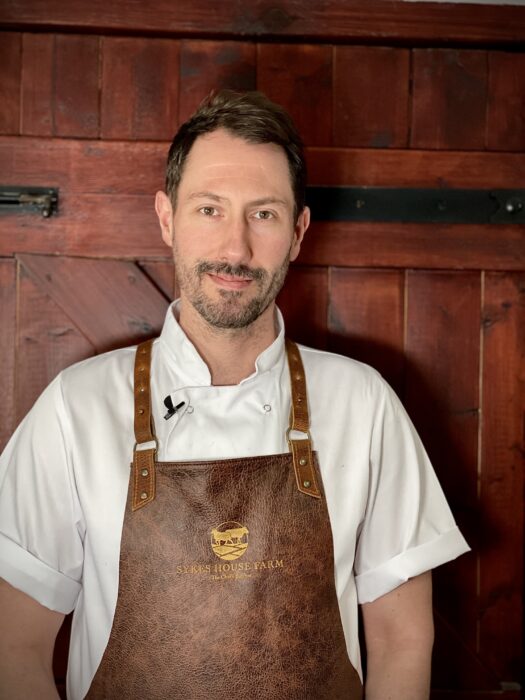 We are delighted to announce that we have a BRAND NEW Development Consultant Chef onboard: Greg Lewis!
Greg joining our enthusiastic team is a very exciting move for Sykes House Farm. Greg will be developing new areas to the business, alongside Rachael and Robert, with the ultimate goal of offering a full circle experience on the farm.
Greg's main role at Sykes will be to build and run a state-of-the-art demo kitchen ON SITE. Greg will be developing new products and support our professional chefs in ensuring that their menus are perfection! Greg will also be hosting Chef Table events, delivering cooking demos, assisting butchery skill masterclasses and developing menus/offerings for our online retail business.
However, before we delve a little deeper into our future plans, we wanted to give you a some more details on Greg's background.
Greg started his career in a bakery in Christchurch in 1995 and worked through various types of kitchens from high end through to large volume restaurants and mass catering. He started getting involved in the sales team of a great Yorkshire company but was quickly lured back into the kitchen as Greg said he missed cooking too much.
An amazing opportunity for Greg in his early chef days was working in the Sydney Olympics, which he said "for a 19-year-old guy to be in Sydney at the time of the Olympics was incredible", a cooking memory he will cherish forever.
He moved to the UK in 2005 and began a Chef de Partie role under Jeff Baker at Pool Court (England's only inner-city Michelin starred restaurant outside of London at the time). Intense, difficult and physically tough but learnt an incredible amount and working underneath one of Yorkshire's best chefs.
In January 2011 Greg started a new role as Sous Chef under James Cooper at New Ellington. Greg stated that this was a "brilliant, beautiful little Hotel in Leeds and he learnt a lot working alongside James.
Sometime in 2014, Greg got the building work started on Pintura! A massive product and a beautiful restaurant where they won some amazing awards and gained plenty of fans, but he claims they may have been a bit too ambitious at the time. This was where his love affair with Basque cuisine and all things San Sebastian began. Greg learnt a huge amount about respecting produce, surrounded by wonderful people with cooking in their blood, where he said at lunch time they talked about what they're having for dinner, and at dinner time the talk was about breakfast the next day. An amazing, life changing few years for Chef Greg.
In 2018, Greg began life as Business Development Manager at Delifresh. He enjoyed his time there working with some brilliant people but it wasn't the right role for him.
In September 2021 the day after Greg's son was born, he got the devastating news from home that he had lost his brother unexpectedly overnight. This was inevitably "a very difficult time emotionally – extreme highs and lows but character building, nonetheless." He then decided to join Sykes House Farm as he says that "life is too short not to do the things you love!" This is where the new relationship between Sykes House Farm and Chef Greg began.
Greg is a big part of all the exciting developments happening at Sykes House Farm. Sykes House Farm have plans in place to put a fantastic facility in, where some unique experiences will be available for both customers and chefs. This facility will allow Greg to create a Chef's Table environment where he can teach everyday customers how to professionally cook particular cuts of meat as well as host chefs helping them get the best from their menus.
In addition, the factory itself is being extended and renewed. The aim is to offer a unique experience, suitable for all levels of experience from private home cooks to professional chefs.
Now, you may be wondering how Greg can add value when working with professional chefs. As we all know, with food costs rising and margins being squeezed, we're always looking at ways how we can continue to make the right margins. Whether it's unusual cuts you may not have used before or, just a few ideas on how you could possibly get a little bit of added value on your menu, Greg can help with the support of our skilled butchery team.
Having the chance to work with different meats daily, Greg is finding new and exciting ways to cook them. He is a culinary resource that is available to everyone to bounce ideas off. We hope that people will take the opportunity to speak to Greg about their needs as an additional resource to the sales and office team. Greg works alongside the whole team at Sykes, so he is really in the thick of it every day. Any questions for Greg please don't hesitate to email him on chef@sykeshousefarm.co.uk.