Why Grouse Is Becoming More Exclusive Than Ever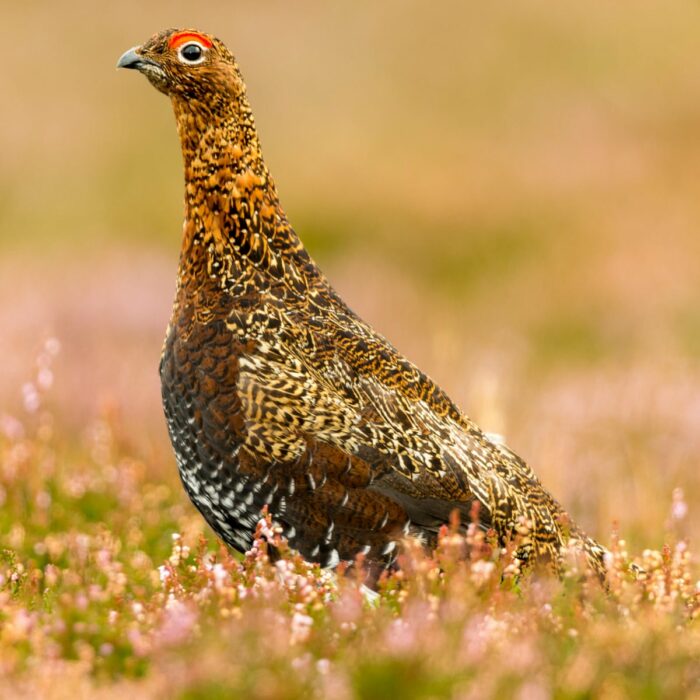 Of all the feathered game, grouse is considered the king– hence the first day of the grouse shooting season, 12th August, being named The Glorious Twelfth. As we have now entered grouse-shooting season, which occurs until 10th December, the demand for this luxury meat is higher than ever. This high demand is not only from the people but also the high-end restaurants who serve grouse-based dishes.
Grouse are native to Scotland but they are found elsewhere in the UK. Its flesh is rich, with a distinctive red colour and a gamey flavour; it's quite small, meaning that one bird is enough for one person. Young birds are best roasted, while older birds work well cooked in a casserole.
Not only does this meat taste delectable, it also has many health benefits- bonus! Grouse meat contains significantly more protein than chicken meat; protein is essential for repairing muscles, fighting off diseases and keeping you healthy overall. A single serving of grouse only contains approximately 127 calories- consider the fact that this is almost entirely protein, and you have yourself a very lean, healthy dinner. Moreover, grouse is full of essential B vitamins, such as vitamin B6, B2 and B3. These nutrients are responsible for preventing chronic diseases, keeping your blood flowing the way it should, providing energy to the body, promoting oxygen circulation and providing an overall feeling of happiness.
If the divine taste of this specialised meat doesn't make you want to run to the nearest grouse-serving restaurant or, of course Sykes House Farm shop, maybe these nutritional facts will. Please call ahead to pre order though!
Not only does grouse-hunting provide us with the finest quality meat, but it also serves as a positive for other wildlife; moorland managed for grouse-shooting has been shown to support at least 76 different bird species, 43 of which are considered 'endangered'. Grouse moors are important strongholds for many of the UK's most threatened wading bird species– including curlew, lapwing, redshank and golden plover.
Grouse is now in a higher demand than ever before; hard frosts while the birds were laying has meant that fewer were born, and some eggs are still yet to hatch. Sleet and cold rain during the hatching season earlier this summer caused the loss of entire broods. It is undoubtable that grouse is now an exclusive item- the many more reasons why we should choose it on the menu at that special family dinner this winter.
By choosing grouse, we are helping the local economy- we help local farmers and, thus, the local people. After a difficult previous year, we all crave these next winter months to be spent with our family and friends, enjoying good food and making memories. We have all been affected in our own ways due to the global pandemic, let's make this festive period one to remember. By buying these luxury meats, we are helping the local farming industry stay afloat, among many other industries along the way.
So, what do our top chefs pair grouse with?
Roast grouse with game chips, watercress and bread sauce: Thick, creamy bread sauce and crunchy homemade game chips are traditional accompaniments to grouse for good reason – the flavours are subtle enough to allow the bird to shine, yet they provide a nice range of textures to complement the meat. Fresh watercress adds a peppery bite and a splash of colour. This is the most traditional way of cooking and serving grouse, so if you're looking for a classic example of British game, this is the recipe to go for.
Roast grouse with braised cabbage, celeriac purée and sauce Albert: For a grouse dish that celebrates seasonal autumnal vegetables as much as the grouse itself, try this brilliant recipe from Martin Wishart. Braised savoy cabbage and celeriac purée provide robust autumn flavours, whilst the horseradish and mustard in the Albert sauce (an English classic) add a powerful, punchy finish.
Mousseline of grouse with pearl barley, savoy cabbage, pancetta and red wine: Had your fill of roast grouse and want something that'll really knock the socks off your guests? Try Phil Howard's stunning grouse mousseline enriched with cream. Supporting acts come in the form of an intense red wine sauce, nutty pearl barley, crisp pancetta and a mix of trampette mushrooms and savoy cabbage.
See the link below for a recipe from top chef James Martin – Roast grouse with fondant potatoes, redcurrant and bread sauce, game chips and wild mushrooms
All in all, grouse is most definitely at the top of our wish lists this autumn/winter period. With a delicious taste, multiple health benefits and a positive outcome for wildlife and the farming industry, it only seems essential!