A PERFECT OLD-FASHIONED SHEPHERD'S PIE
Serves: 6
Prep Time: 20 Minutes
Cooking Time: 1 hour plus 40 minutes to reheat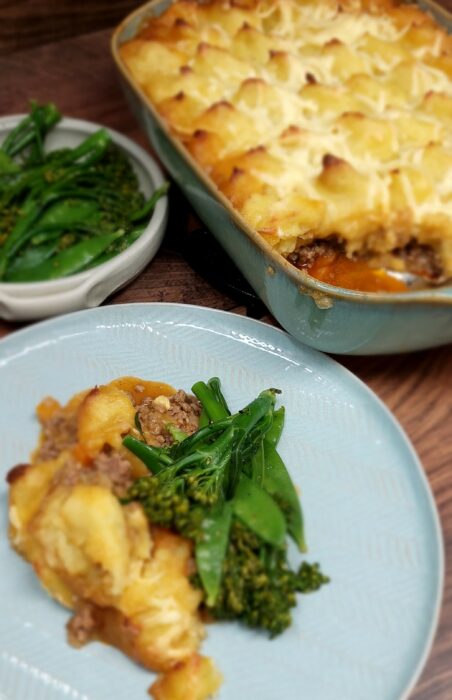 INGREDIENTS
1kg Sykes Lamb Mince
1 x large carrot – diced
1 x large onion – diced
2 x sticks celery – diced
2 x cloves garlic – crushed
2 x bay leaf
2 x sprigs of thyme
1 x sprig rosemary
200ml x red wine
1 Tbls tomato puree
2 cups beef or lamb stock
1 Tbls plain flour
Hendersons relish – to taste
1 Tbls ketchup
Sea salt
Cracked black pepper
2kg mashing potatoes
100g butter
Milk
Seasonal greens such as
tenderstem, kale or beans
80g Grated cheddar cheese
METHOD
For the lamb ragout
Preheat a large frying pan. In batches, fry the lamb mince until brown in colour and drain in a colander. In a large saucepan, gently sweat the carrots, celery, onion, garlic, bay, thyme and rosemary in 20g butter until slightly coloured and beginning to soften. Add the browned mince to the saucepan and stir to combine. Add the red wine to the pan, bring to the boil and reduce by half. Add the tomato puree and flour to the pan and cook for a further 2 minutes, stirring regularly. Season the lamb mix with
salt and pepper and add the stock. Bring to a simmer and then reduce the heat. Cook for 30-40 minutes until the sauce has thickened. Season and cool the mix down in a large oven proof dish or casserole. Set aside until required – this can be done the day before and chilled in the fridge overnight.
For the cheesy mash
Peel and quarter the potatoes and place into a large saucepan of cold water. Wash the potatoes and discard the water. Cover the potatoes with fresh water and a good pinch of salt and bring to the boil. Reduce the heat and simmer the potatoes for 15-20 minutes or until tender. Drain the potatoes and return to the heat for 1-2 minutes to dry out. Mash the potatoes until all the lumps have gone. Add the remaining butter gradually and mash in
to incorporate. Add enough milk as is required to form a smooth, pipe-able mash. Season with sea salt and a twist of pepper. Transfer to a piping bag and pipe onto the top of your ragout (or simply spoon on top of your chilled ragout). Set aside until required.
For the greens
Place a large pan of salted water onto the heat and bring to the boil – the water should taste 'like the sea'. Once water is boiling, plunge your vegetables in and cook until just tender.
Remove your vegetables and place them into a large bowl of iced
water to cool down quickly. Drain and set aside until required –
these can be prepped days in advance.
To serve
Preheat the oven to 175c. Remove your pie from the fridge (if using from the day before) and bring up to room temperature. Top with the grated cheese and place into the oven for 40 minutes or until bubbling around the sides and piping hot in the centre. Microwave the vegetables with a good knob of butter and a pinch of sea salt and cracked pepper. Serve with extra
gravy and a giant glass of red wine.