BACON & ORZO MINESTRONE with GARLIC FOCACCIA
Serves: 4
Prep Time: 20 mins
Cooking Time: 40 mins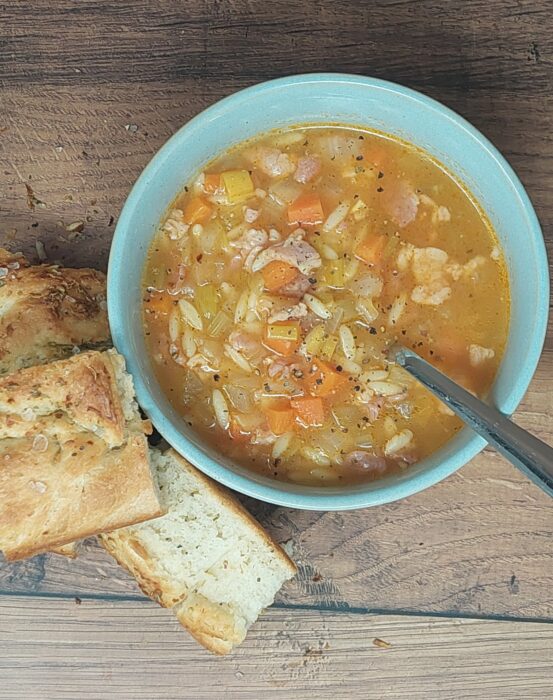 INGREDIENTS
250g  Back Bacon
1 x small onion – diced
Half a leek – diced
1 x carrot – diced
3 x sticks celery – diced
1 x small bulb fennel – diced
2 Tbls tomato puree
250ml white wine
1 litre ham or chicken stock
3 x cloves garlic – crushed
1 tspn dried oregano
500g bread flour
1 x sachet dry yeast
8g sugar
8g table salt
1 Tbls rock salt
2 Tbls olive oil
100g orzo pasta
1 Tbls cooking oil
Sea salt
Cracked black pepper
METHOD
For the Focaccia bread
Mix the dried yeast, flour, table salt and sugar together in a bowl. Add 330ml of warm water and mix together to form a rough dough. On a floured surface, knead the dough for 8-10 minutes to form a smooth dough. The dough shouldn't be too 'tight' or tough. Place the dough in a clean bowl and cover with clingfilm for 1 hour or until doubled in size.
After 1 hour of proving, tip the dough onto a floured surface and knock out the air. Press the dough into an oiled oven tray approx 200mmx300mm. Cover again with clingfilm and allow to prove for another hour or until doubled in size. Preheat the oven to 200c.
Grate or crush the garlic and mix it together with the oregano and olive oil to form a paste. Smear the paste over the top of the dough and poke several holes in the top with your finger. Place the bread dough in the oven and bake for 30 minutes.
It should be lovely and brown and make a 'hollow' sound when its cooked.
Remove the loaf from the oven, carefully take it out of the tray and set it
aside on a cooling rack until required.

For the minestrone
Heat a large saucepan on medium heat. Dice the bacon into 1cm squares. Add the bacon to the saucepan with the cooking oil and fry for 5 minutes. Add the vegetables and a good pinch of salt and fry, stirring regularly, for another 5 minutes. Stir in the tomato puree and cook it out for 2-3 minutes to remove any bitterness. Add the white wine and reduce by half. Add the stock and bring the soup to the boil. Reduce the heat and simmer for 15-20 minutes making sure you skim the top with a ladle for any grease that may settle. Add the orzo and simmer for 15 minutes.
Remove the soup from the heat and let it stand for 5 minutes.

To serve
Serve the soup in deep bowls with a generous twist of cracked pepper, chunks of warm focaccia bread and a good drizzle of extra virgin
olive oil.