BACON STEAKS with CHILLI TOMATO CHUTNEY and POTATO WAFFLES
Serves: 4
Prep Time: 20 mins
Cooking Time: 40 mins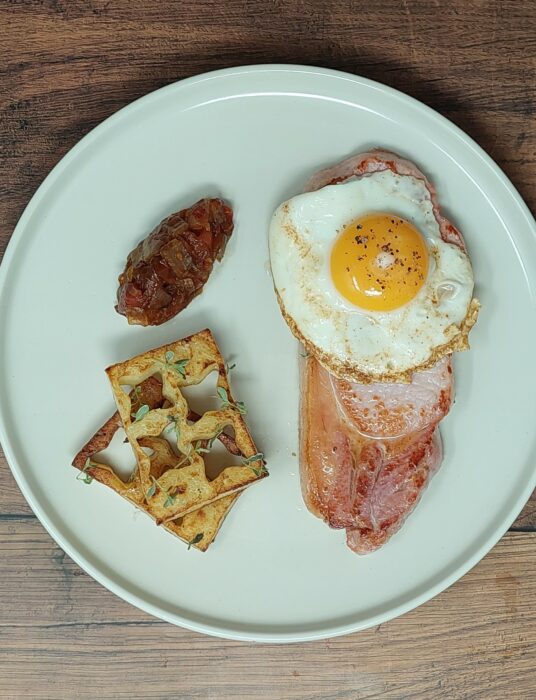 INGREDIENTS
4 x Sykes Bacon steaks
3-4 x tomatoes – diced
1 x large onion – diced
75ml balsamic vinegar
75ml water
1 Tbls demerera sugar
Sea salt
1/2 tspn chilli flakes
4 x large baking potatoes
Thyme
1 x knob butter
4 x eggs
1 Tbls cooking oil
METHOD
For the chutney
Place the tomatoes, onions, vinegar, water, sugar and chilli flakes into a saucepan. Place on high heat, season lightly with sea salt and bring to the boil. Reduce the chutney to a simmer and cook it down until its sticky and darker in colour, stirring regularly. Check the seasoning and set aside until required. This can be cooked in advance and will keep in the fridge for up to 2 weeks.
For the waffles
Preheat the oven to 200c. Peel the potatoes, square them off and cut them into rectangles approx 1cm thick. Cut holes out of each rectangle with a small cutter or apple corer. Place the waffles into a bowl and rinse with cold water. Dry the potatoes off and place them into an oven tray.
Coat them with the oil lightly and sprinkle with the thyme. Place them into
the oven for 20 minutes. After 20 minutes, flip the waffles over and cook
them a further 10 minutes or until golden on the outside but cooked
through. Remove the waffles from the oven, season with sea salt and some
extra thyme leaves.
To serve
Remove your bacon steaks from the fridge 20 minutes before you intend to cook them and bring them up to room temperature. Heat up an oven-proof frying pan with a drizzle of cooking oil and a knob of butter.
When the butter is sizzling, place the steaks into the pan. Cook the steaks for 3-4 minutes until browned then flip them over and place the pan into the oven with the waffles for 6-8 minutes. Remove the steaks from the oven, place them on a plate and rest for 3-4 minutes.
Return the pan to the heat and using the bacon fat, fry the eggs sunny side up, until the white is cooked but the yolk still runny.
Serve the steaks with the waffles. Add the egg on top with a nice dollop of tomato chutney.