BACON WRAPPED, STUFFED TURKEY BREAST with HERBY GRAVY
Serves: 12
Prep Time: 5 Minutes
Cooking Time: 20 Minutes per 500g of total weight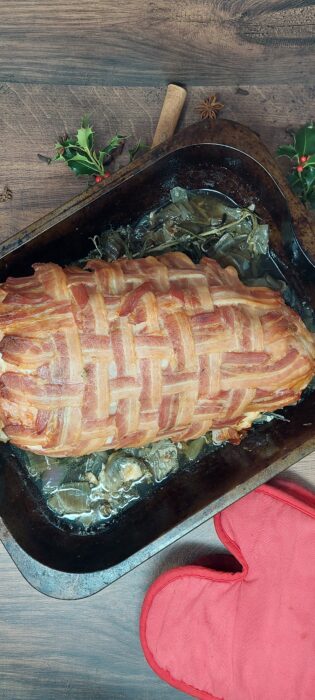 INGREDIENTS
1 x Boneless stuffed turkey breast
(with bacon lattice)
50ml olive oil
2 x large onions – diced
5 x cloves garlic
Handful of sage
Handful of rosemary
Handful of thyme
Sea salt
Cracked pepper
300ml water
2 x sticks celery – diced
2 x carrots – peeled and diced
2 bay leaves
300ml white wine
1 x 500ml Truefoods Turkey gravy
METHOD
M E THO D
For the turkey
Remove the turkey breast 2-3 hours before you
intend to cook it to bring it up to room temperature. Preheat the
oven to 180c. Place 1 diced onion, garlic, sage, thyme and rosemary
into a large oven tray. Gently turn the breast over being careful to
keep the bacon lattice attached. Season with sea salt and cracked
pepper and turn the breast back over. Drizzle 50ml of olive oil over
the bacon. Place the breast, bacon side up, on top of the onions and
herbs. Add 300ml of water to the oven tray being careful not to
moisten the bacon. Tent the oven tray with tinfoil and place the tray
into the oven. Cook the turkey for 20 minutes per 500g of its total
weight – for example, a 4kg turkey would cook for 160 minutes or 2
hours and 40 minutes. After 3 quarters of the cooking time, remove
the foil. Cook the breast for the remaining time uncovered to colour
and crisp up the bacon. Throughout the last quarter of the cooking
time, check the temperature of the turkey by placing a meat
thermometer into the centre of the thickest part of the bird. If the
temperature has reached 65-70c remove the breast from the oven
and loosely cover with tinfoil. Rest somewhere warm for at least 30
minutes. The temperature will continue to rise by a further 7-8
degrees whilst resting and the breast will be perfectly cooked
through.
For the gravy
In a large saucepan, sweat the onions, celery, carrots
and bay leaf for 10-12 minutes until the vegetables have began to
colour. Add the wine and stir the bottom to remove any caught bits
from the base of the pan. Reduce the wine by half. Add the
Truefoods gravy and thyme and bring to the boil. Pass the gravy and
set aside.

To serve
After resting, carefully place the turkey on a large serving
board. Locate the strings that are holding the breast together. With
sharp scissors, cut the strings just above the knot. Holding the knot,
carefully pull each string out being careful not to pull the bacon
away. Discard the strings. Strain any resting juices into a bowl or
saucepan and skim the fat from the top. Add the juices to the gravy
and reheat. Carve the turkey into lovely thick slices, douse with
gravy and serve with all of your favourite sides and trimmings.