BBQ CHICKEN DRUMSTICKS with LEMON PESTO & ORZO
Serves: 4
Prep Time: 20 mins
Cooking Time: 35 mins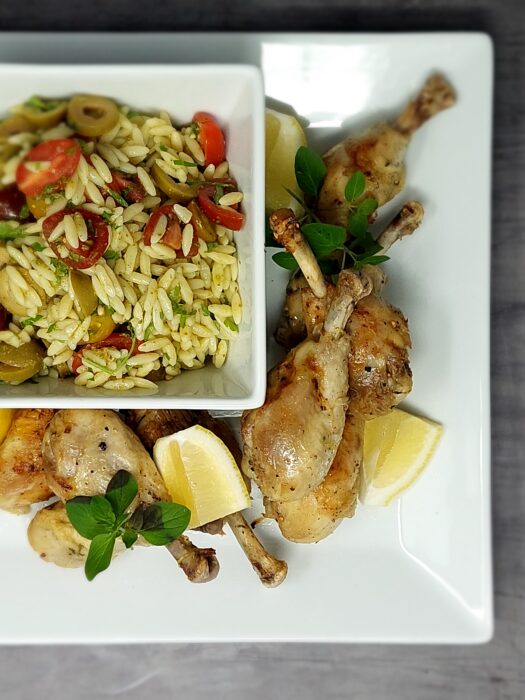 INGREDIENTS
10 x Chicken drumsticks
1 x lemon – zest and juice
4 Tbls olive oil
1 Tbls red wine vinegar
Sea salt
Cracked pepper
2 cloves of garlic
1 x stick of celery
1 x onion – diced
1 x carrot
1 x sprig of thyme
1 x sprig of fresh oregano
2 cups of orzo
6 x large green olives – sliced
1 handful of mixed tomatoes
Parsley
1 Tbls pesto
METHOD
For the chicken
In a large saucepan, place the chicken drumsticks, the celery, carrots, onion, garlic and thyme and cover with cold water.
Add a large pinch of salt and bring the pan to the boil. Once boiling,
reduce to a simmer and poach the chicken for 35-40 minutes. Turn
off the heat and let the drums cool in the stock for as long as possible.
Remove the chicken from the pan, place into a tub and refrigerate
until required. Reserve the stock for the freezer or use to cook your
orzo pasta.

For the orzo
Bring a pan of salted water to the boil. Boil the orzo as per the manufacturer's instructions. When cooked, drain and cool down under cold running water. Drain again and stir through 1 tablespoon of olive oil, being careful to coat as much of the pasta as possible to prevent it from sticking. Place the pasta in a mixing bowl and add the chopped tomato, sliced olives and herbs. In a seperate bowl or jar, mix together the pesto, 2 tablespoons of olive oil and 1 tablespoon of red wine vinegar. Shake to form a dressing and toss the dressing through the orzo. Set aside until required.

To finish
Preheat your grill to 230c and place an oven tray in the oven to heat up. In a bowl, toss your pre-cooked chicken drums with 1 tablespoon of olive oil, a pinch of sea salt, a good twist of pepper, a sprig of oregano and the zest and juice of the lemon. Toss together and place in the hot oven tray under the grill. Grill for 8-10 minutes on both sides until the skin is crispy and they're warmed through. Re-toss the orzo salad and serve with lemon wedges and some fresh oregano or basil