VALENTINE'S RIB EYE STEAK, BONE MARROW HASSELBACKS & CLASSIC GARNISH
Serves: 2
Prep Time: 30 mins
Cooking Time: 45 mins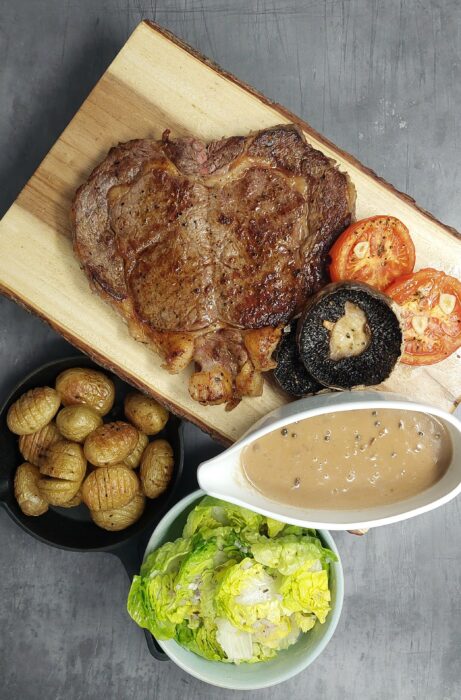 INGREDIENTS
1 x Yorkshire Grass Fed Valentine's Ribeye
30g Kettle Bone marrow
Sea Salt
3 cloves garlic – peeled
1 x gem lettuce
30ml Pott's Herb de Provence dressing
1 x Truefoods Peppercorn sauce
1 x large tomato
2 x large portobello mushrooms
20g butter
1 x sprig of thyme
1/2 banana shallot – finely diced
10ml Cooking oil
10ml olive oil
METHOD
Method
For the potatoes
Preheat the oven to 190c. With a sharp knife, make a series of cuts halfway into each potato being careful not to cut all the way through. Place the potatoes into a roasting dish with 2 cloves of smashed garlic, 30g of crumbled or chopped bone marrow and a good pinch of sea salt. Place the potatoes into the oven and roast for 35-40 minutes or until crispy on the outside but fluffy and cooked through in the centre. Set aside for 3-4 minutes and serve when ready.
For the garnish
Peel the mushrooms and place them into a roasting dish. Remove the core from the tomato, cut in half horizontally and place them next to the mushrooms. Top each tomato half with 3-4 slices of garlic and a few leaves of thyme. Drizzle the tomatoes and mushrooms with a touch of olive oil. Place 5g of butter into the centre of each mushroom. Season the mushrooms and tomatoes with sea salt and cracked pepper and place them into the oven with the potatoes. Roast them for 20-25 or until soft and cooked through but not breaking down. Set aside to serve with the steak.
For the steak
Remove the steak from the fridge 30 minutes before you intend to cook it. Preheat a skillet or large frying pan until very hot. Season the steak with sea salt and pepper and rub with the cooking oil. Carefully place the steaks into the pan and cook to your liking turning only once. Remove the steaks from the pan and top with 10g of salted butter. Rest the steak for at least 5 minutes.
To Serve
Gently reheat the peppercorn sauce over a low heat. Once the steak has rested, add the steak's resting juices to the sauce. Carve the steak and serve it on a large wooden board with the tomatoes, mushrooms and hassleback potatoes. Add any juice from the mushroom to the sauce also. Wash and drain the baby gem lettuce and toss it together with the shallots and Pott's dressing. Pour the sauce into a jug and serve to your better half with a large glass of delicious red wine.