CLASSIC BEEF STEW & HORSERADISH DUMPLINGS
Serves: 2 - 4
Prep Time: 30 mins
Cooking Time: 2 hours 30 minutes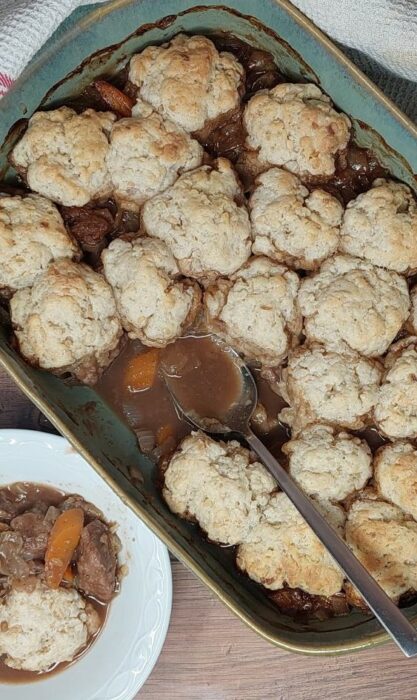 INGREDIENTS
500g stewing steak
500ml Truefoods beef stock
Sea salt
Black pepper
2 tbls plain flour
Cooking oil
1 x large carrot – diced
1 x large onion – diced
2 x celery sticks – diced
2 x cloves garlic – crushed
2 x bay leaves
Sprig of thyme
150ml red wine
300g self-raising flour
150g fresh or dried suet
2 tbls horseradish
METHOD
For the stew
Place a large casserole or saucepan onto the heat. Toss
the diced beef in the plain flour and dust off the excess. Next add a touch of cooking oil to the pan and add the beef. Brown the beef on all sides
before removing to a plate or bowl. Add the vegetables and herbs to
the pan and saute for 5-6 minutes until they are just coloured and return
the beef to the pan and add the red wine. Reduce the wine by two
thirds, stirring regularly to remove any brown or caught bits from the
bottom of the pan. Once the wine is syrupy, add the Truefoods beef stock and bring it to the boil, reduce the heat and simmer slowly for 2 hours or until the
beef is tender. Set aside whilst you make the dumplings.

For the dumplings
Rub together the flour and dried or grated fresh
suet until they resemble coarse breadcrumbs. Sprinkle with a pinch of
salt and pepper. Gradually add cold water to the flour and mix
together with a butter knife until the mix resembles a rough scone
dough. Next add the horseradish to the mix and knead lightly to combine.
Cover with clingfilm and rest for 10 minutes or until required.

To serve
Preheat the oven to 170c. Return the stew to a low heat to
slowly bring up to a simmer. Ball the dumpling dough up into golf
ball sized balls and place the directly on top of the stew. Cover the
stew with foil and place the pan/casserole into the oven. Cook the
stew for 20 minutes with the foil on then remove the foil and cook for
a further 10-15 minutes or until the tops of the dumplings are brown
and crispy. Remove the stew from the oven and leave it to sit for 5-10
minutes before serving.
Best served with buttery mash and steamed
greens