CAJUN CHICKEN FILLETS, MANGO, AVOCADO AND JAMBALAYA SALAD
Serves: 4
Prep Time: 20 MINUTES
Cooking Time: 35 MINUTES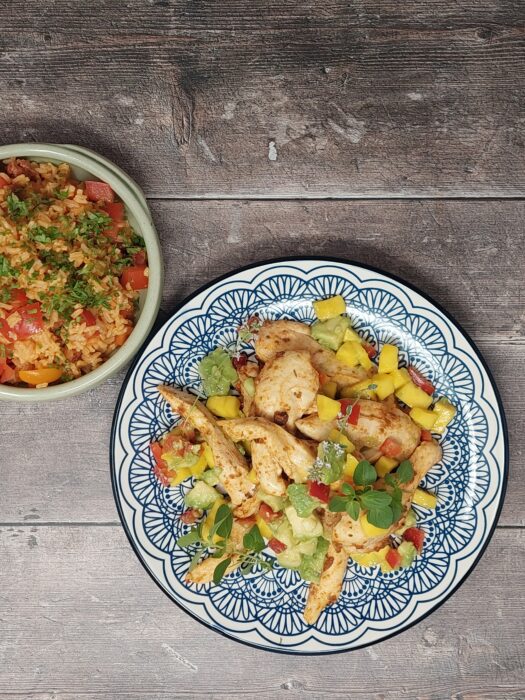 INGREDIENTS
500g chicken fillets
1 avocado
1 mango
1 lime
Sea salt
3 tablespoons olive oil
1 red pepper
1 cup long grain rice
2 cups boiling water
1 small onion
4 tspn Cajun spice
Handful of mixed cherry tomatoes
Chives
Parsley
METHOD
METHOD
For the chicken
In a bowl, place your chicken fillets, 2 teaspoon of Cajun spice and 1 tablespoon of olive oil. Mix together and marinade for 3-4 hours. Preheat the grill to 220c and place a tray in the oven to heat up. When hot, place your fillets carefully in the tray and grill for 8-10 minutes until cooked through. Rest for 2-3 minutes before serving.
For the salsa
Peel and roughly dice the avocado, mango and half a red pepper. Place into a bowl and toss together with a squeeze of lime and season with sea salt. Set aside at room temperature until required.
For the jambalaya rice
Preheat your oven to 180c. In an oven proof dish, place 1 cup of long grain rice, 2 teaspoons of cajun spice and a good pinch of salt. Finely dice the chorizo and onion and fry in 1 tablespoon of olive oil for 6-8 minutes to brown the onions and render the fat from the chorizo. Add 2 cups of water to the chorizo pan and bring to the boil. Pour the boiling liquid over the rice, cover with foil and bake in the oven for 25 minutes. Once cooked, remove the rice from the oven and 'fluff up' with a fork. Leave to cool. Once cooled, add the chopped tomatoes, half a diced red pepper, the finely chopped fresh herbs and a squeeze of lime. Toss together and set aside at room temperature to serve when required.