CHEESY BACON & SWEETCORN MUFFINS
Serves: 12
Prep Time: 20 mins
Cooking Time: 20 mins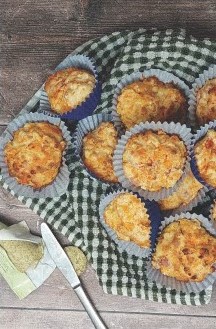 INGREDIENTS
3 x cups self raising flour
2 x cups grated cheese
1 tsp baking powder
1 x cup milk
1 x egg – beaten
Sea salt
Cracked pepper
1 Tbls sugar
1 x small can sweetcorn
6 x rashers Sykes streaky bacon – diced
1 x small onion – diced
Smoked paprika or cayenne pepper
METHOD
Method
In a frying pan, fry the bacon and onion until the bacon has cooked
through and the onions are translucent. Set aside until cooled.

Preheat the oven to 210c. In a mixing bowl, add the flour, cheese, baking
powder, sugar and a good pinch of salt and pepper. Add the cooled
bacon and onion to the dry ingredients and stir to combine. Make a well
in the centre of the ingredients. Beat the milk and egg together and add
to the dry ingredients. Mix 7-8 times until the mix has just combined.
Don't over-mix – this will result in dense muffins – a few lumps of
unmixed mixture is fine.

Place 12 muffin cases in a bun tray. Divide the mixture evenly between
the 12 cases, saving any spare mixture back for a second batch. Place the
muffins into the oven and bake for 15-20 minutes or until the muffins
have browned slightly and a skewer comes out cleanly from the centre
of the muffins.
Cool slightly, dust with a pinch of paprika or cayenne pepper and serve
with lashings of Sublime garlic and herb butter.