CHICKEN PAILLARD with WILD GARLIC AIOLI, ROCKET, HERBS & LEMON
Serves: 4
Prep Time: 20 mins
Cooking Time: 15 mins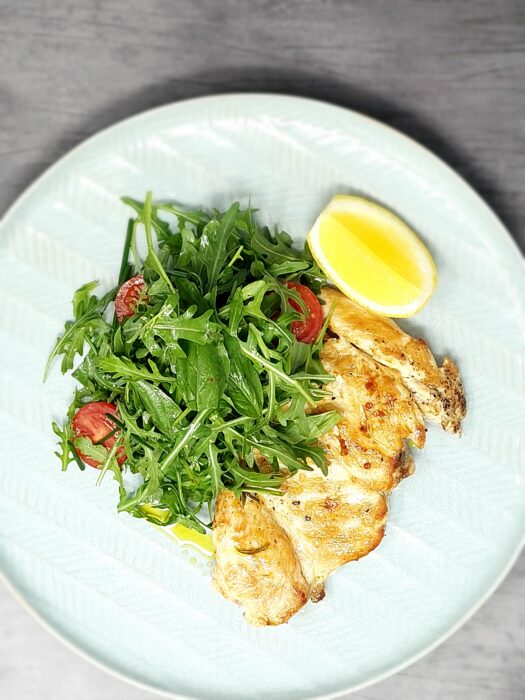 INGREDIENTS
4 x 7-8oz Chicken fillets
Sea salt
Cracked black pepper
3 cloves garlic – crushed
1 tablespoon rapeseed oil
2 x lemons – zest and juice
Few sprigs of rosemary
A large handful (approx. 100g) of
Wild garlic, rinsed under cold water
2 egg yolks
1 tablespoon white wine vinegar
200ml rapeseed oil
Sea salt
A handful each of rocket, watercress
and pea shoots
1 small handful of torn basil leaves
A few sprigs of dill
Cherry tomatoes
METHOD
For the chicken
Remove your chicken from the bag and pat dry.
With a sharp knife, slice into the fattest part of the chicken and run
your knife across-ways carefully down the breast. Without cutting
the breast completely in half, open the breast up to butterfly. Between
2 sheets of greaseproof paper or clingfilm, gently bat out the chicken
with a meat hammer or rolling pin to flatten to approx' 5mm. Place
in a freezer bag or non-metallic dish. Place the remaining marinade
ingredients into the bag/bowl and massage over the chicken.
Marinate overnight.
Turn your grill or BBQ to high. Season your
chicken with a good pinch of sea salt and grill or BBQ for 3-4
minutes on each side until cooked through. Remove from the grill,
squeeze a lemon over the top and rest somewhere warm.

For the aioli
In boiling water, blanch the rinsed garlic for 10 seconds and place it immediately into iced water. In a food processor place the egg yolks, vinegar, a good pinch of salt and your garlic. Blend until smooth and well combined. Scrape the sides of your blender and blend again. Whilst the blender is moving, gradually drizzle the oil into the egg yolk mix in a steady stream. The mixture will start to thicken and form mayonnaise. When the desired consistency is reached, season and set aside in the fridge.

To serve
Dress your leaves, tomatoes and herbs with a touch of extra virgin rapeseed oil, a squeeze of lemon and a sprinkling of salt and pepper. Place your paillards on a large plate with a wedge of lemon, a good blob of wild garlic aioli and a handful of your herb salad