CHICKEN WINGS in HOT SAUCE with YORKSHIRE BLUE CHEESE DIP
Serves: 4
Prep Time: 20 mins
Cooking Time: 45 mins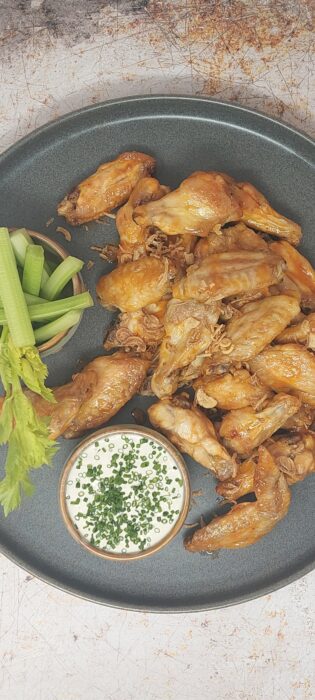 INGREDIENTS
1kg x Sykes House Chicken wings
Sea salt
Cracked pepper
1 x Tbls cooking oil
4 x cloves garlic – smashed
40g butter
60ml sriracha sauce
2 x Tbls sour cream
1 x Tbls mayonnaise
1/2 lemon – juice only
1 x tspn Henderson's relish
50g Yorkshire blue
1 x tspn chives – chopped
Crispy shallots
Celery sticks
METHOD
For the chicken
Preheat the oven to 190c. Remove the chicken wings from the fridge and place them into a large mixing bowl.
Drizzle them with the cooking oil, season well with salt and pepper
and place them into an oven tray with the smashed garlic. Roast them
for 35 minutes, shaking regularly. After 35 minutes, increase the oven
temperature to 210c. Cook the wings for a further 10 minutes or until crispy. Remove the wings from the oven and rest for 4-5 minutes. In a saucepan, add the cubed butter and sriracha sauce and gently bring to a simmer over medium heat. Once the butter has melted, whisk or swirl the pan quickly to emulsify the butter and sauce together – you should get a thick, glossy sauce. Place the rested wings into a clean mixing bowl and coat with the hot sauce. Sprinkle with crispy shallots and serve.

For the dip
In a mixing bowl, place the sour cream, mayonnaise, blue cheese, lemon juice and Henderson's relish and whisk until combined. The more you whisk, the smoother the dip will become. Season to taste with sea salt and cracked pepper. Finish with chopped chives.

To serve
Serve the hot, sticky wings on a large platter with a side dish of the blue cheese dip. Best served with sticks of fresh celery, loads of chives and crispy fried shallots. Napkins will be nescesary…