CHIMMICHURRI STEAK SALAD with CHAR-GRILLED VEGETABLES & AVOCADO
Serves: 2
Prep Time: 20 minutes
Cooking Time: 15 minutes plus resting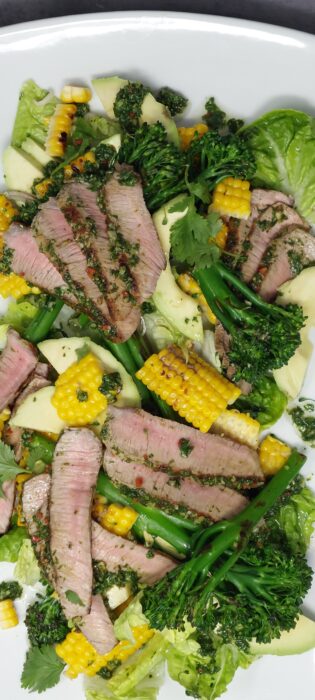 INGREDIENTS
2 x 227g Picanha Rump Steaks
1 x cup parsley leaves
1 x cup coriander leaves
4 x cloves garlic – crushed
1 x red chilli – finely chopped
2 Tbls red wine vinegar
2 Tbls olive oil
Sea salt
Cracked pepper
1 x baby gem lettuce – roughly chopped
1 x banana shallot – thinly sliced
Cooking oil
1 x avocado – sliced
200g tenderstem brocolli
2 x corn on the cob
METHOD
For the chimmi-churri
Finely chop the parsley and coriander and place them into a mixing bowl. Add the finely chopped chilli, crushed garlic, red wine vinegar, olive oil, salt and pepper. Mix together to combine and set aside until required.
For the vegetables
Place a large pan of salted water on a high heat and bring it to the boil. Cook the sweetcorn for 5 minutes before removing it and placing it into iced water to refresh. Bring the water back to the boil and blanch the broccoli for 2 minutes. Remove the broccoli and place in iced water to refresh. Drain the vegetables and set aside until required.
To serve
Remove the steak from the fridge half an hour before you intend to grill it. Place a griddle pan on high heat. Season and oil the steak on both sides and carefully place it into the pan. Cook it for 3-4 minutes on each side before removing it to rest in a warm place.
Spoon a good drizzle of chimmichurri on top of the steak while it's
resting. Into the griddle pan, place the corn cobs and tenderstem
brocolli. Cook for 2-3 minutes or until well charred. Remove the
vegetables to a chopping board to cool slightly. Once cool enough to
handle, slice the corn kernels from the cob. Toss the baby gem and
shallots in a little dressing and place rustically onto a large plate or
bowl. Top with the charred vegetables and some thick slices of
avocado. Thinly slice the rested steak and place on top of the warm
salad. Drizzle the salad with a touch more dressing and any resting
juices from the steak. Garnish with a few extra coriander leaves and a
twist of black pepper.