CHINESE CHICKEN THIGHS, PICKLE SALAD and RICE
Serves: 2-4
Prep Time: 20 mins
Cooking Time: 45 mins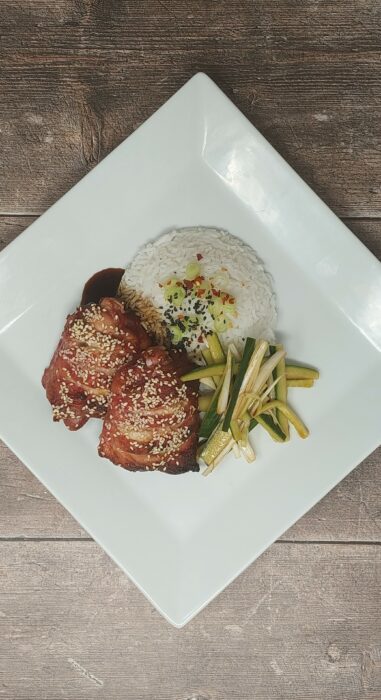 INGREDIENTS
6 x Grain fed Chicken thighs – oyster cut in Chinese marinade
1 x Tablespoon sesame seeds
1 x bunch spring onions
1 x cucumber
200g x basmati or white rice
1 x Tablespoon soy sauce
1 x Tablespoon sherry or rice wine vinegar
1 x Tablespoon brown sugar
Pinch of chilli flakes
Hoisin sauce (optional)
METHOD
For the chicken thighs
Preheat your oven to 200c. Remove your chicken thighs from the fridge and score across the top with a sharp knife. Place them into an oven tray and leave them out of the fridge for 20-30 minutes to allow them to come up to room temperature. Sprinkle the thighs with the sesame seeds and place them into the oven. Cook them for 35-40 minutes or until crispy on the outside and cooked through. Remove them from the oven and rest them for 10 minutes.

For the pickle salad
Remove the seeds from the cucumber and cut it into thin strips. Remove the greens from the spring onions and set them aside to chop up later. Cut the whites of the onions into thin strips and add them to a bowl with the cucumber. Add the soy, brown sugar and vinegar to the bowl, toss it all together and set it aside for 10 minutes to marinate and soften the vegetables.

To serve
Place small bowls of hot steamed rice onto large serving plates.
Top each mound of rice with some extra sesame seeds, a pinch of chilli
flakes and the chopped up greens of the spring onions. Place the chicken
thighs next to the rice and finish the plates with a pile of the pickled salad.
Fantastic served with some Stokes' Hoisin sauce