CRISPY CHICKEN LEGS with BACON & BUTTER BEANS
Serves: 6
Prep Time: 5 Mins
Cooking Time: 1 Hour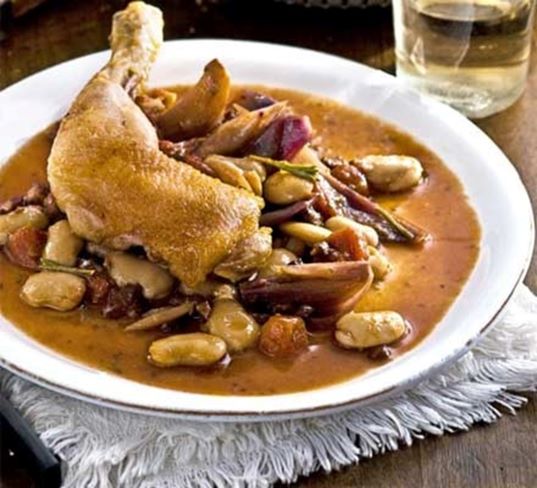 INGREDIENTS
1 tbsp olive oil
200g bacon lardons
4 red onions , cut into wedges
2 garlic cloves , crushed
2 rosemary sprigs, leaves finely chopped, plus one extra whole sprig
250g red wine
250g chicken stock
2 x 400g/14oz cans cherry tomatoes
3 x 400g/14oz cans butter bean
2 tbsp sugar
1 bay leaf
METHOD
Method
Heat oven to 190C/fan 170C/gas 5. Heat the oil in a large roasting tin, then brown the chicken legs in batches until golden and crisp. Remove from the tin and set aside.
Fry the bacon lardons in the same tin. When they are just beginning to brown, add the onion, garlic and rosemary and fry for a few mins, stirring continuously then add the wine and stock. Bring to the boil, then reduce to a simmer for 10 mins until the onion wedges are starting to soften and the liquid has reduced. Tip in the cherry tomatoes, beans, sugar, bay leaf, remaining rosemary sprig and seasoning. Give everything a good stir, then bring back to a simmer.
Sit the chicken legs on top of the bean mixture and pour over any extra juices from the chicken. Bake for 40-45 mins until the chicken is cooked and crisp, the sauce is bubbling and the onions are soft.