CRISPY CHICKEN LETTUCE CUPS with ORIENTAL SLAW & SESAME
Serves: 4
Prep Time: 20 mins
Cooking Time: 15 mins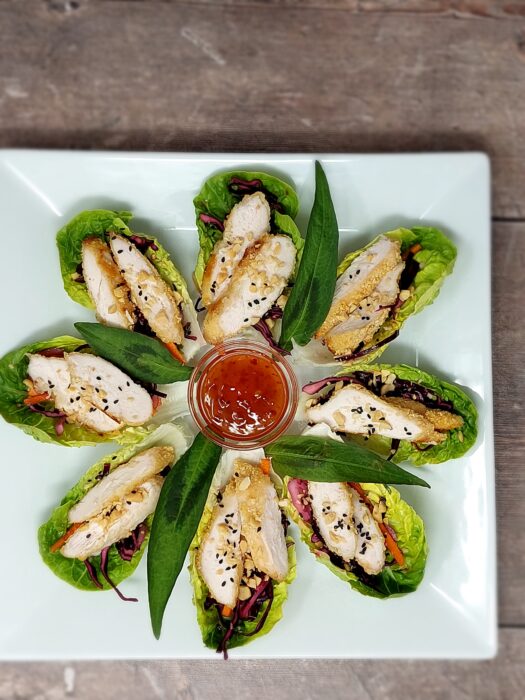 INGREDIENTS
500g Chicken inner fillets
1 egg – beaten
75g plain flour
75g panko bread crumbs
1 baby gem lettuce
1/4 red cabbage – finely shredded
1 carrot – grated or spiralised
1/2 banana shallot – finely sliced
1 lime
1/2 tspn black or white sesame seeds
1 tspn sesame oil
Sea salt
Cracked black pepper
1 Tbls salted peanuts – chopped
Small handful of coriander
METHOD
For the chicken
Preheat the oven to 200c, place an oven tray inside. To bread the chicken, place the egg in a bowl. Place the breadcrumbs and the flour in 2 additional bowls. Dip each chicken fillet into the flour to coat, then into the egg, then finally the breadcrumbs and coat each one well. When the oven and tray are hot, carefully remove the tray from the oven and drizzle with oil. Place the breaded chicken fillets onto the tray and place in the oven for 10-12 minutes. Cook until the breadcrumbs are golden brown and the kitchen is cooked through. Set aside until required.

For the slaw
In a small bowl, place the shredded red cabbage, grated carrot, sliced shallot, sesame seeds, lime juice, sesame oil, coriander, salt and pepper. Mix together and set aside.

To serve
Gently take apart and wash the baby gem lettuce. Try to keep as many leaves whole and intact. Fill each gem leaf with a little slaw and top with 2-3 slices of chicken (hot or cold). Top with extra sesame and the chopped peanuts and finish with some oriental herbs such as coriander, Thai basil or Vietnamese coriander. Fantastic with sweet chilli sauce or kekap manis (sweet soy sauce).