CRISPY PORK BELLY SLIDERS with APPLE & MUSTARD SLAW
Serves: 4-6
Prep Time: 40 Minutes
Cooking Time: 30 Minutes plus proving time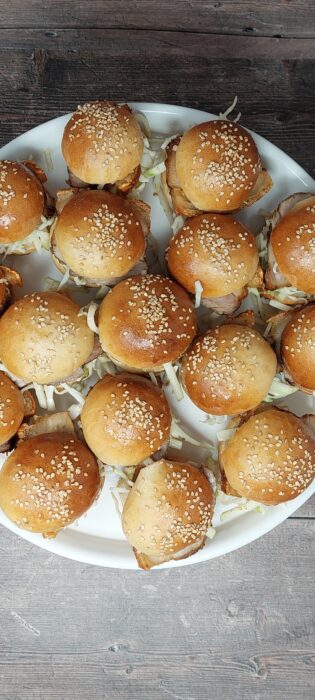 INGREDIENTS
2 x Pork Belly squares
500g strong bread flour
320ml warm water
7g dried fast-action yeast
8g salt
10g sugar
1 x Granny Smith apple
1/2 x small white cabbage
1 Tbls mayonnaise
1 x lemon – juice only
1 tspn wholegrain mustard
Sea salt
Black pepper
Sesame seeds
1 x egg – beaten
Handful of watercress
METHOD
For the buns
Place the flour, 8g salt and the sugar into a large bowl or stand mixer and make a well in the centre. Mix the yeast and the warm water together and add to the bowl. Stir together to form a rough dough and tip out onto a floured surface or beat with a dough hook in the machine. Knead the mixture for 8-10 minutes to form a smooth dough. Return the dough to the bowl, cling-film and set aside somewhere warm for 1 hour to prove. Once the dough has doubled in size, tip it out onto a floured surface and 'knock out' the air. Mould the dough into 16 balls and then place on a non-stick oven tray and set aside to prove again for 30-45 minutes.
Preheat the oven to 200c. Once the buns have proven, glaze them with the beaten egg, sprinkle with sesame seeds and place them into the oven to bake for 20-22 minutes. Remove from the oven when they are golden brown and sound 'hollow' when tapped. These can be made in advance and frozen until required.
For the slaw
Thinly slice the cabbage and julienne the apples. Add to a large mixing bowl and squeeze the lemon juice over the apple. Season with sea salt and set aside for 5-10 minutes. Once the cabbage and apple mix has sat for 10 minutes, drain or squeeze out any excess liquid then add the mayonnaise and mustard to the bowl, toss together and season with the black pepper. Set aside in the fridge until required.
For the pork
Preheat the oven to 200c. Slice each belly square into 8 slices and arrange fanned out on a non-stick oven tray, making sure the crackling is facing up. Place in the oven for 15-20 minutes until the skin has crisped and the pork is heated through. Rest for 3-4 minutes
To serve
Slice the buns through the middle and warm through for 3-4 minutes in the oven. Top each bun with a spoon of slaw, a little bunch of watercress and a slice of hot roasted pork.
Best served with a bottle or 2 of crisp, dry apple cider