DUCK WITH RHUBARB & SLOE GIN
Serves: 2
Prep Time: 20 minutes
Cooking Time: 40 minutes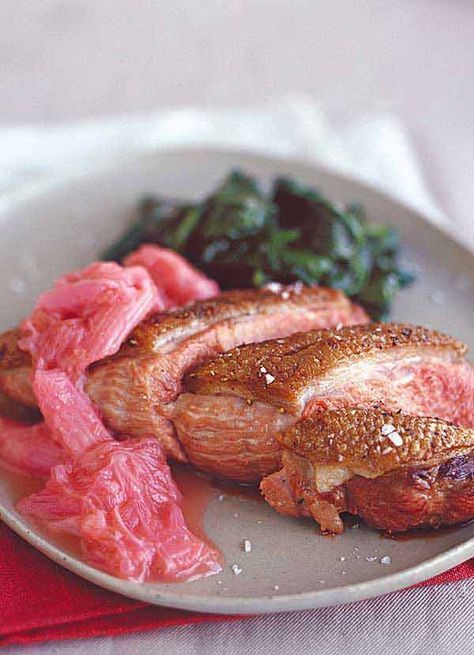 INGREDIENTS
2
shallots, peeled and finely chopped
1 small garlic clove, finely sliced
METHOD
Preheat oven to 200°C (180°C fan) mark 6. Pat duck breasts dry with kitchen paper.  Score skin at 1½ cm ( in) intervals, being careful not to cut down into flesh. Sprinkle skin generously with salt.
Place breasts skin-side down in a cold, dry non-stick frying pan over low heat. Fry for  about 12min (without turning) until skin is golden and crisp. As fat renders from skin, pour  into a bowl and reserve.
Set breasts fat-side up on a wire rack inside a roasting tin. Roast in oven for 18min for  medium. Transfer to a board, cover with foil; rest while making sauce.
Prepare rhubarb: cut into 5cm (2in) pieces, about 2cm (¾ in) thick. In the cleaned-out pan, gently fry shallots in 2tsp of the reserved duck fat (see GH Tip) for 3min until soft. Add  garlic; fry for 1min. Add 75ml (3fl oz) water, sugar and sloe gin. Stir a little to dissolve sugar.
Add rhubarb to pan, cover and simmer for 5min (don't disturb rhubarb or it will lose its  shape). Remove from heat. Set aside, covered, for a further 5min until rhubarb is tender. Check seasoning.
Slice duck. Serve on the sauce.