EGGS BENEDICT with HAM and HOLLANDAISE
Serves: 4
Prep Time: 2 hours
Cooking Time: 50 mins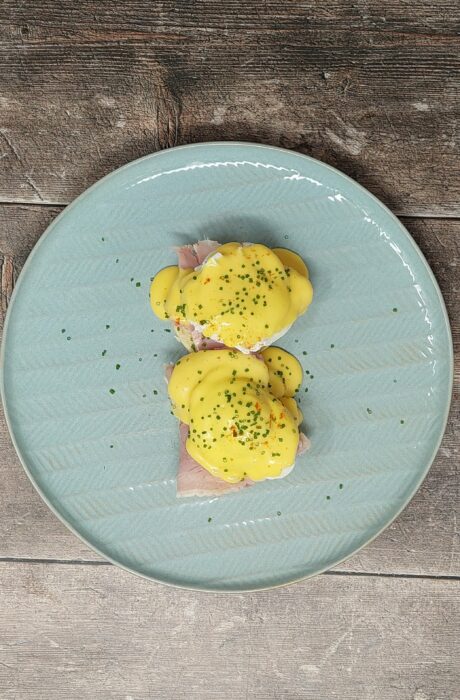 INGREDIENTS
300ml milk
1 x 7g sachet dried yeast
25g sugar
50ml rapeseed oil
450g plain flour
Pinch salt
12 x Potter's Free range eggs
200g Sublime Himilayan salted butter
1 Tablespoon white wine vinegar
1/2 x lemon – juice only
8 x slices of ham
Chives
Cayenne pepper or smoked paprika
METHOD
For the muffins
Gently warm the milk to approximately 37c. Whisk in the yeast and sugar and set aside for 5 minutes or until slightly frothy. Add the yeast mix to the flour with the oil and a pinch of salt. Stir with a wooden spoon to combine then either knead by hand or in a stand mixer for 5-8 minutes or until the dough is smooth and elastic. Set the dough aside in a covered bowl for 1 hour or until doubled in size. After 1 hour, tip the dough out onto a floured surface and roll out until approximately 2cm thick. With a round cutter, cut out circles of dough and set them aside on a floured tray –
you should get 8-10 muffins. Cover them until they have puffed up and
doubled in size.
Preheat your oven to 170c. In a heavy non-stick frying pan, gently cook the muffins until they are brown on each side – 2-3 minutes – before transferring to an oven tray and baking for 10 minutes. Remove from
the oven and cool on a wire rack. You will need 4 for this recipe but the rest can be frozen until required or kept in an airtight container and toasted later.

For the hollandaise sauce
Seperate 4 eggs and place the yolks into a heat proof mixing bowl with the vinegar. Whisk the egg yolks, non-stop, over a gently simmering pan until the yolks are light in colour and fluffy. If the eggs scramble at this stage discard them and start again. Remove the egg yolks from the heat. Melt the butter in a microwave jug or a saucepan. Begin to whisk your egg yolk mix again whilst gently drizzling the melted butter into the bowl – you may find it easier for somebody to hold the bowl and whisk while you pour the butter in. Continue to whisk until all the butter has been added. You should have a thick mayo-like sauce. Add a squeeze of lemon juice and season the sauce. Cover the sauce with a piece of greaseproof paper
and leave somewhere safe at room temperature. Do not put the sauce in the fridge!
To serve
Bring a deep saucepan of water to the boil with a good splash of white wine vinegar. Gently poach the eggs in the liquid until cooked. If you'd
like to do this in advance simply place the hot poached eggs into a bowl of
ice-cold water and chill. You can reheat these in boiling water later. Split
your muffins through the middle and toast them. Place half a slice of ham
onto each muffin, top with a poached egg and finish with a geerous dollop of hollandaise sauce. Finish the plates with a sprinkle of chives and a pinch of smoked paprika or cayenne pepper for colour.