FULL ENGLISH KEBABS with ROSTI and POACHED EGGS
Serves: 4
Prep Time: 20 mins
Cooking Time: 25 mins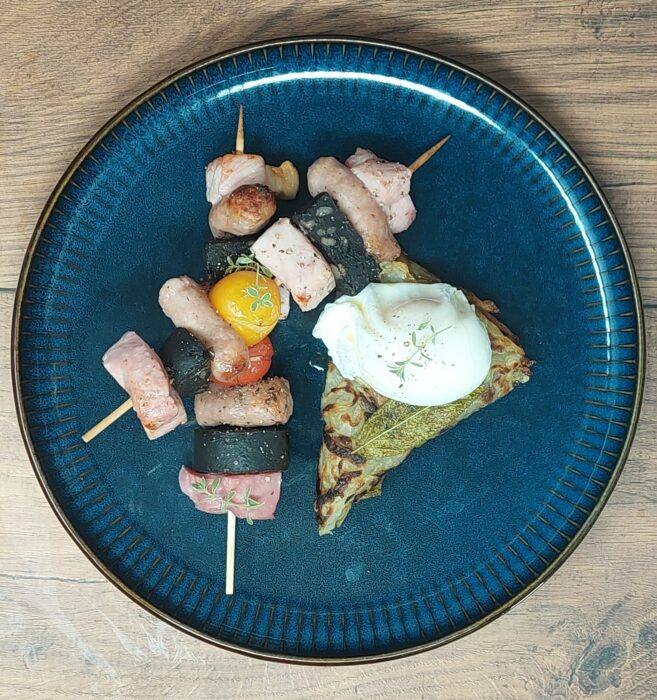 INGREDIENTS
2 x Sykes Bacon steaks
8 x cherry tomatoes
4 x Sykes chipolata
1 x Bury black pudding chubby
2 x baking potatoes
40g butter
1 x Tablespoon cooking oil
8 x sage leaves
Sea salt
Cracked pepper
4 x Potter's free range eggs
METHOD
For the skewers
Dice the steaks, black pudding and chipolatas to a similar size so that they will all cook at the same time. Skewer the meat and cherry tomatoes onto 8 skewers. Place them on an oven tray and drizzle them with cooking oil. Season with cracked pepper and set aside until required.

For the rosti
Peel the potatoes and cut them in half. Grate each piece of potato and place the grated potato into a mixing bowl. Season with salt and cracked pepper, mix well and set aside for 5 minutes. After 5 minutes, squeeze as much water from the potatoes as possible. In a large non-stick frying pan, heat the remaining oil and butter until it begins to sizzle. Place the sage leaves into the pan so that they sit flat. Press the grated potato into
the pan on top of the sage so the entire bottom of the pan is covered. Fry
over medium heat for 6-8 minutes until the rosti is a lovely golden brown.

Using a large fish slice or dinner plate, carefully flip the rosti over and cook
for a further 6-8 minutes or until the rosti is golden brown and cooked
through. Set aside until required.

To serve
Preheat the oven to 210c. Place the skewers into the oven and cook for 20 minutes, turning once. Flash the rosti back through the oven to warm through. Place the rosti onto a large plate or platter and top with the skewers. Serve with some runny poached eggs and a final sprinkling of sea
salt and cracked pepper. Delicious with a home-made brown sauce or a
proper hollandaise.