GREEK INSPIRED ONE-PAN CRISPY CHICKEN
Serves: 2
Prep Time: 20 Minutes
Cooking Time: 1 Hour plus 10 Minutes resting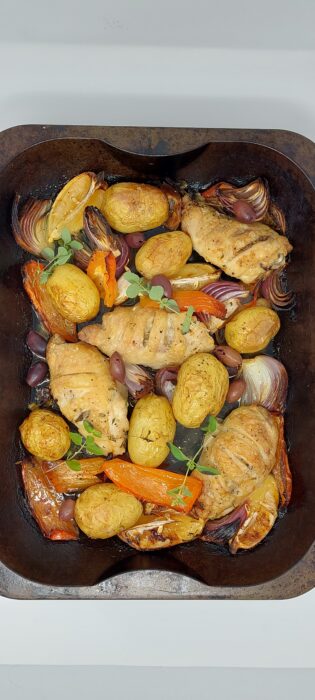 INGREDIENTS
4 x Sykes House Chicken thighs
– oyster cut
300g x new potatoes
1 x red pepper
1 x red onion
2 x garlic cloves – crushed
1 x lemon – quartered
4-5 sprigs oregano
4-5 sprigs thyme
30ml olive oil
Sea salt
Cracked pepper
12-15 Kalamata olives – pitted
Chopped parsley
METHOD
Preheat the oven to 200c. In a large oven tray or casserole dish, drizzle the
olive oil, a good pinch of flaky sea salt and a generous twist of black
pepper. With a sharp knife, score each chicken thigh down to the bone
2-3 times. Place the chicken thighs into the tray and toss to cover with
the olive oil and seasoning. Leave them in the tray skin side up. Cut the onions into wedges and the pepper into large pieces and place into the oven tray with the chicken. Add the new potatoes, the crushed garlic cloves, the sprigs of herbs and the quartered lemon. Drizzle the vegetables with olive oil and season with a touch more sea salt. Place the tray into the oven, uncovered, for 30 minutes.
After the initial 30 minutes, remove the tray from the oven and give it a good shake. Turn the tray around and return it to the oven for an additional 30 minutes. After the hour, remove the tray from the oven and scatter in the olives – the chicken should be cooked through and crispy, the potatoes should be soft and the vegetables slightly charred and beginning to break down. Rest the tray for 10 minutes before squashing the juice out of the lemons and discarding the skins. Shake the pan gently to distribute the lemon and chicken juices evenly and finish with some fresh chopped parsley.
Serve with a fresh tomato and onion salad, some dressed leaves and a glass of crisp white wine.