GRILLED PORK TACOS with BLACK BEAN 'MOLE', PINK ONIONS & SALSA FRESCA
Serves: 2 -4
Prep Time: 40 mins
Cooking Time: 40 mins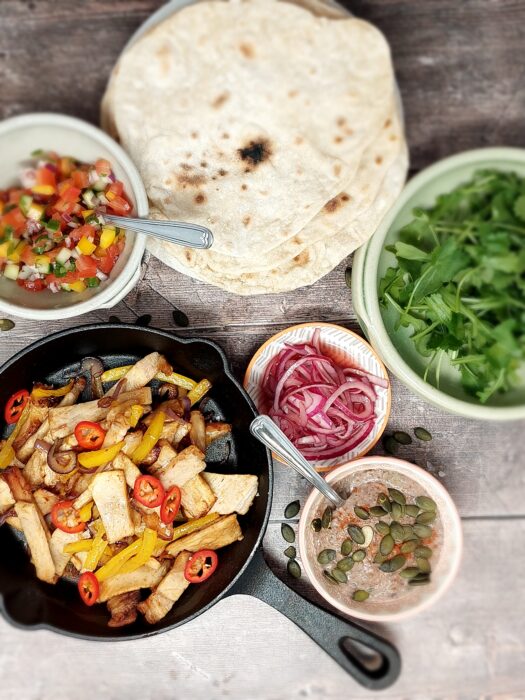 INGREDIENTS
300g leftover roast pork
1 yellow pepper
2 red onions
1 clove garlic
2 limes
2 tsp red wine vinegar
1/2 tsp sugar
Sea salt
1 can of black beans
75ml olive oil
1 red chilli
Small handful coriander
Pumpkin seeds
1/2 cucumber
2 large tomatoes
250g plain flour
150ml warm water
1 tsp smoked paprika
1 teaspoon cumin
White pepper
METHOD
For the pink onions
Peel and slice half a red onion and place it into a small bowl. Add 1/2 teaspoon of sugar, a pinch of sea salt, 2 teaspoons red wine vinegar and a squeeze of lime. Toss together and set aside until required, preferably overnight.

For the black bean 'mole'
Drain and rinse the black beans and place into your blender or food processor. Add the juice of half a lime, a small handful of coriander, 1 clove of garlic, 2 tablespoons of olive oil and a pinch of salt.
Blend together until smooth and set aside until required. Serve topped with a sprinkle of toasted pumpkin seeds.

For the salsa fresca
Quarter, de-seed and dice the tomatoes and place them in the bowl. De-seed and dice the cucumber, finely dice the red onion, de-seed and dice half the yellow pepper and add them all to the tomato.
Season with sea salt, a squeeze of lime and a drizzle of olive oil. Toss together and set aside until required.

For the tortillas
Mix together the flour, 2 tablespoons of olive oil, 150ml warm water and a pinch of salt. Knead for 5 minutes to form a smooth dough. Set aside to rest for 30 minutes. Once rested, divide the dough into 8 equal balls (or 12 balls for smaller tacos).
Roll out on a floured board and dry-fry until slightly charred and puffed up. Wrap in a clean tea-towel to keep warm until required. These can be made the day before and microwaved for 10 seconds to 'freshen up' when required.

For the pork
Preheat the grill to 220c and place an oven tray directly underneath the grill while it heats. Slice your remaining yellow pepper and onion and place in a bowl. Thinly slice your leftover pork and add to the bowl with the onions and peppers. Add 1 teaspoon of smoked paprika, 1 teaspoon of cumin, a drizzle of olive and a sprinkling of salt and pepper.

Once the grill is hot, toss the pork and vegetable mix onto the tray and grill until the onions and peppers have coloured nicely and the pork has warmed through. Finish with some sliced red chilli and serve with the warm tortillas, bean 'mole', salsa, lime wedges, some freshly dressed salad leaves and coriander.