GRILLED SAUSAGE PATTIES with ROAST TOMATO SALSA & FRIED EGGS
Serves: 4
Prep Time: 10 mins
Cooking Time: 30 mins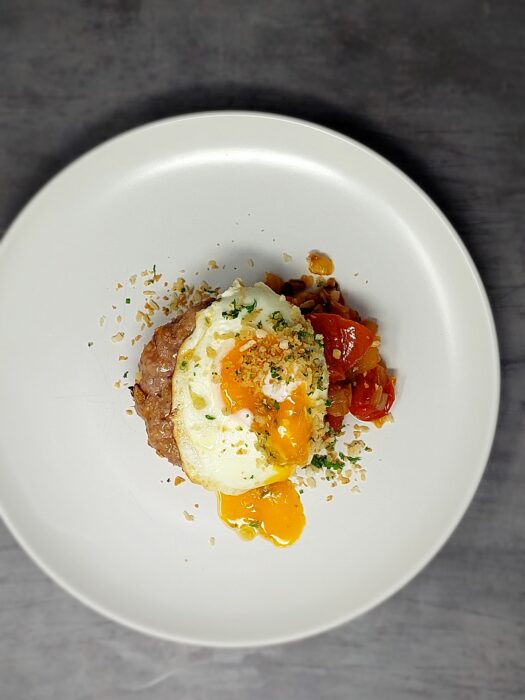 INGREDIENTS
8 x 4oz Sykes House Farm sausage patties
25g Panko bread crumbs or 1 slice of stale bread
1 x small onion
3 x tomatoes
3 Tbls olive oil
1/2 tspn smoked paprika
Cracked pepper
Small bunch of parsley
Small bunch of chives
Sea salt
1 Tbls butter
METHOD
METHOD
For the salsa and patties
Preheat the oven to 200c and place an oven tray inside to heat up. Roughly chop the tomatoes and dice the onions. Toss them in a bowl with 2 tablespoons of olive oil , sea salt, a twist of cracked pepper and the smoked paprika. Place the mix into the hot tray and cook for 20 minutes. Once the tomatoes and onions are charred and almost broken down, push them all to one corner of the tray. In the gap you have created, place the sausage patties and return the tray to the oven for a further 5 minutes. After 5 minutes, turn the patties over and cook for a further 5 minutes.
When cooked remove the tray from the oven. Remove the patties and place them onto a plate to rest. Squash and stir together the tomatoes and onions with any fat and juice from the patties.
For the fried eggs
In a warm frying pan, place the remaining olive oil and the butter. Crack the eggs into the pan and fry, sunny side up, until the whites are cooked but the yolk is runny. Remove the eggs and place them on top of the sausage patties. In the same pan, toast the panko bread crumbs or stale bread with a touch of se salt until they are golden brown. Add the herbs and toss together.
To serve
Place a small 'dollop' of roasted tomato salsa in the centre of a plate. Top it with a sausage pattie and repeat. Place a fried egg on the top of each stack and top with the toasted herby breadcrumbs. Garnish with a final sprinkle of smoked paprika and any spare herbs. Great with an ice cold Bloody Mary!