INDIAN INSPIRED JUBILEE CHICKEN with SALAD, SPICED GRAVY, MINT & YOGHURT
Serves: 4
Prep Time: 35 mins
Cooking Time: 1 hour 20 mins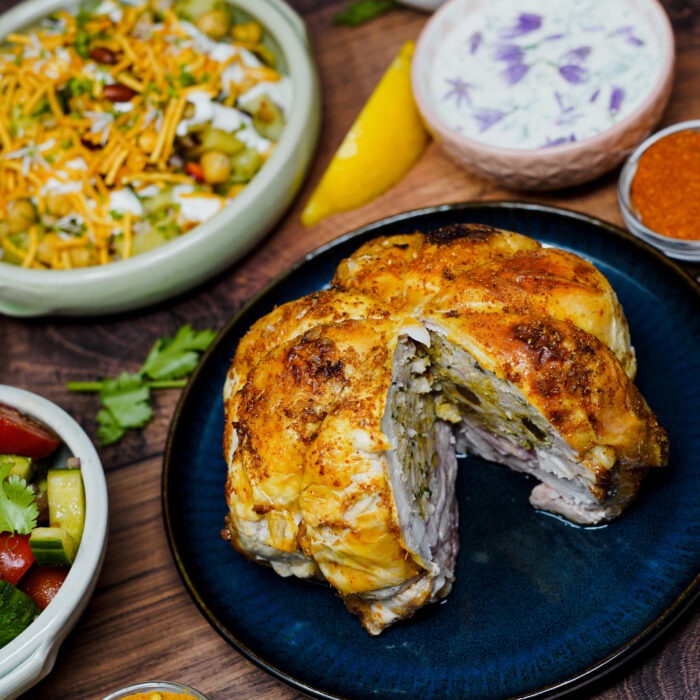 INGREDIENTS
1 x Syke's Jubilee Cushion
2 teaspoon Tandoori masala powder
2 tablespoons olive oil
Good pinch of Sea salt
1 x lemon
1 onion – roughly diced
½ glass white wine
1 tablespoon plain flour
300ml chicken stock
1 cup dried chickpeas – soaked
overnight
2 large potatoes – peeled and diced
3 tablespoons mango chutney
2 lemons – zest and juice
1 red onion
1 red or green chilli – seeded and
finely diced
1 cup + 3 tablespoons Greek yoghurt
1 large handful coriander – chopped
1 small knob of ginger – grated
4 tablespoons Bombay mix
Handful of pomegranate seeds
Sea salt
400g mixed tomatoes – plum,
cherry, beefsteak or yellow
¾ cucumber
1 teaspoon cumin
1 tablespoon olive oil
¼ teaspoon chilli flakes
2 cloves garlic – crushed
Handful mint – leaves only
Small bunch of chives – chopped
½ teaspoon caster suga
METHOD
For the chicken
Remove from the refrigerator to bring up to room temperature and preheat your oven to 200c
Mix the tandoori masala powder, sea salt and olive oil to form a red
paste. Spread or brush the chicken with the paste. Quarter the lemon
and place the wedges under the chicken with the diced onion in a
roasting tray. Place into the oven and reduce the heat to 180c.
Cook the chicken for 1 hour and 10 minutes or until the stuffing in
the centre reaches 68c. Remove from the oven and rest for at least 20
minutes on a plate somewhere warm.
While the chicken is resting, place the roasting dish onto the hob.
Add the wine and use a wooden spoon to remove any brown or
charred bits from the bottom of the roasting tin. This will flavour and
colour your gravy. Reduce the wine by 2 thirds, add the flour and stir
to form a paste. Gradually add the hot chicken stock and bring to the
boil. Reduce and simmer. Strain through a sieve and season
accordingly.
When you are ready to carve, place your chicken on a chopping
board. Add any juices from the resting plate to the gravy. Carve your
chicken into wedges or slices and serve with fresh salads or crunchy
Indian inspired roast potatoes.
For the chickpea salad
Cover your chickpeas with cold water and season with salt. Bring to the boil and reduce to a simmer. Cook for 1 hour or until tender. Rinse your potatoes and place them in a steamer pan on top of your chickpeas. Sprinkle with salt and steam until tender but still holding their shape. Once your chickpeas and potatoes are cooked, drain and leave to cool at room temperature. Don't run them under cold water to cool – this will make them soggy and waterlogged.
Add the chickpeas and cooked potatoes to a mixing bowl with half a diced red onion, half the coriander, fresh chilli, zest and juice of 1 lemon and the ginger. Add the mango chutney to the bowl and gently fold to coat the 'salad' with the chutney. Place in a serving dish. Add 3-4 dollops of the yoghurt and top with the Bombay mix, pomegranate seeds and a touch more coriander.

For the tomato salad
Roughly chop the tomatoes and place in a bowl -a mix of different shapes and sizes looks great. De-seed and slice half a cucumber on an angle. Add to a bowl with the tomatoes. Season your tomatoes and cucumber with sea salt, toss and leave to marinate. After 30 minutes, add half a red onion, thinly sliced, the cumin, chilli flakes and the olive oil to the bowl with the cucumber and tomato. Toss together, garnish with a few picked coriander
leaves and serve.

For the herby yoghurt
Mix the garlic, 1/4 finely diced cucumber, mint, half the chives, 1 cup yoghurt, seasoning and sugar in a bowl and gently stir until combined. Serve in a pretty dish and top with the remaining chives. For a final flourish, a few picked chive flower petals make a lovely addition