JAPANESE INSPIRED SHIN OF BEEF RAMEN
Serves: 4
Prep Time: 40 Minutes
Cooking Time: 1 Hour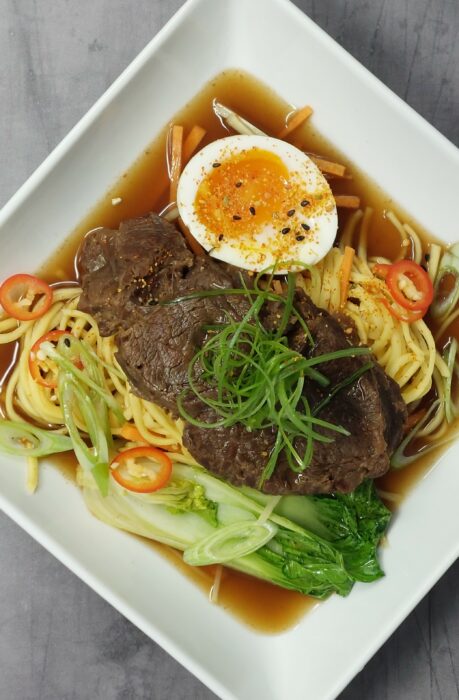 INGREDIENTS
600g Shin of Beef
600ml Truefoods beef stock – hot
100ml soy sauce
1 x 2-inch piece of ginger
4 x cloves garlic – crushed
1 x onion – chopped
1 x carrot
1 x stick celery
1 x red chilli – finely sliced
4 x spring onions – thinly sliced
Handful of dried mushrooms
Red chilli flakes – to garnish
4 x eggs
2 x pak choi
250g dried egg noodles
30ml cooking oil
Sea salt
METHOD
For the beef
Cut the shin into 4 even slices. Season well with sea salt. In a pressure cooker, brown the shin meat on both sides in a little cooking oil. Add the carrots, celery, garlic, onion and ginger to the pan and cover with the hot stock. Add the soy sauce and dried mushrooms and bring it to the boil. Seal the pressure cooker and cook on high pressure for 45 minutes. After 45 minutes, remove the pan from the heat and carefully loosen the pressure valve. When the pressure has been released, remove the lid. Gently remove the 4 pieces of shin from the stock and set aside. Pass the stock into a saucepan and set aside until required.
For the eggs
Fill a large bowl with very cold water, set aside. Bring a pan of water to a heavy, rolling boil. Plunge the eggs into the boiling water and cook for 5 minutes and 45 seconds. Remove the eggs from the pan and place them into the bowl of cold water to stop the cooking process. Once cold, peel the eggs and set aside until required.
To serve
Remove any fat that has come to the top of the broth and discard. Place the saucepan onto a medium heat and bring it to the boil. Add the pak choi and noodles to the pan and cook the noodles to the manufacturer's instructions. Add the beef shin and soft-boiled eggs to the stock and gently reheat for 1 minute. Carefully remove the eggs and beef from the pan.
Plate the noodles and pak choi into deep bowls, followed by the shin. Cut the eggs in half to expose the runny yolk and place them on top. Pour the broth into the bowls and garnish with a sprinkling of fresh red chilli, the spring onions and additional julienned vegetables of your choice.