KOREAN INSPIRED TURKEY SALAD
Serves: 4
Prep Time: 20 mins
Cooking Time: 5 mins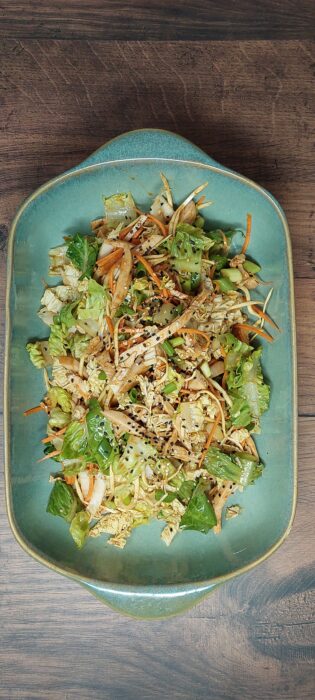 INGREDIENTS
400g Leftover roast turkey
1 x Chinese cabbage – shredded
1 x gem lettuce
1 x carrot
1 x parsnip
1/2 bunch spring onions – sliced
1 tspn sesame seeds – white
1 tspn sesame seeds – black
1 x clove garlic – crushed
3 Tbls white wine vinegar
2 Tbls soy sauce
2 Tbls sesame oil
2 tspn brown sugar
2 tspn Gochujang paste
4 Tbls rapeseed oil
1/2 x lime – juice only
Pinch of sea salt
Pinch of chilli flakes
METHOD

For the dressing
In a small jar, place the crushed garlic, soy sauce, sesame oil, Gochujang paste, brown sugar, rapeseed oil and white wine vinegar.
Shake vigorously until the sugar has dissolved and you have a thick dressing. Set aside until required.

For the salad
Peel the parsnip. Using a julienne peeler or spiralizer, gently shave the parsnip down to form large spaghetti-like strands of parsnip into a large salad bowl. Squeeze the lime over the parsnip and toss together with a pinch of salt. Set aside for 5 minutes to soften the parsnip. Peel the carrot
and using the same method as the parsnip, add the strands of carrot to the
bowl. Next add the shredded cabbage, chopped gem lettuce and spring onion. Shred or slice the leftover turkey and add to the bowl with the
vegetables and add half of the sesame seeds. Shake up the dressing jar to
combine the dressing. Pour the dressing onto the salad and toss well to
combine. Finish with a sprinkling of the remaining sesame seeds and a
pinch of chilli flakes and serve with some warm steamed rice.