LAMB NOISETTE with COURGETTE, TOMATO & LAMB SAUCE
Serves: 2
Prep Time: 1 Hour
Cooking Time: 40 minutes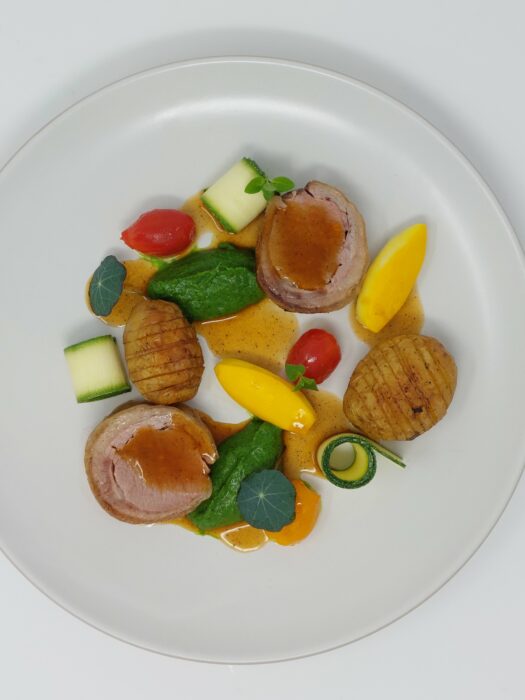 INGREDIENTS
1 x Sykes Lamb Noisette
Sea salt
1 x yellow courgette
1 x green courgette
40g butter
200g spinach – washed
1/2 bunch basil
6 x cherry tomatoes – red or
yellow
50ml rapeseed oil
1 sprig oregano or rosemary
3 sprigs thyme
1 x lemon
2 x clove garlic – smashed
1 x carrot
1 x small onion
2 sticks celery
100g x lamb trim or mince
100ml white wine
1 cup lamb or veal stock
1 tspn plain flour
1 tspn tomato puree
1 bay leaf
METHOD
For the lamb sauce
Finely chop the carrots, celery, onion and garlic and place into a heavy sauce pan with the lamb trim or mince, the bay leaf, 2 sprigs of thyme and 20g butter. Cook on medium heat for 20 minutes, stirring regularly, until the meat and vegetables have coloured to a rich brown. Next add the flour and tomato paste and cook for a further 2-3 minutes. before adding the wine and reducing to a thick syrup. Add the stock, bring to the boil and reduce by half.
Strain the sauce and season.
Chill overnight if possible and remove the fat from the top before reheating.
For the courgette puree
Trim the green part of 1 courgette off and set aside. Discard the seeds. In a large pan of salted water, boil the courgettes for 3 minutes or until soft. Add the spinach and basil to the pan and cook for a further minute. Drain the vegetables and blend until very smooth. Whilst blending, keep adding the remaining butter until you have a smooth, buttery puree. Season
and set aside.
For the boiled courgettes
Slice on a diagonal or 'turn' 1 courgette. In a large pan of salted boiling water, blanch the courgettes for 1 minute. Immediately refresh in ice-cold water, drain and set aside to reheat later. Warm through with a touch of salted butter.
For the pickled courgette
Shave large strips of courgette with a vegetable peeler. Place the strips into a bowl and season with salt and a squeeze of lemon. Set aside until required.
For the tomatoes
Cut a tiny cross into the bottom of each tomato. Boil for 10 seconds then refresh in ice-cold water. Remove the skin from the tomatoes and place into a small tub with the rapeseed oil, a sprig of thyme, the oregano, a clove of garlic and a pinch of salt. Set aside and marinate overnight.
For the lamb
Preheat the oven to 180c. Remove the lamb from the fridge and bring to room temperature. Season well with good sea salt and place in a large, oven-proof frying pan on medium heat and gently seal the lamb for 4-5 minutes on all sides. Place the pan into the oven for 18 minutes. Remove the pan from the oven – then rest for 8-10 minutes and carve into 6-8 slices. The lamb should reach an internal temperature of 58 degrees whilst cooking.
To serve
Gently reheat the puree, boiled courgettes and sauce and present on a warm plate then top with the sliced lamb and garnish with the pickled courgettes, tomatoes and fresh herbs. Great with crunchy hassleback potatoes!