DRY-AGED LAMB RAS EL HANOUT with FLATBREAD and PICKLES
Serves: 6
Prep Time: 1 hour
Cooking Time: 1 hour 30 mins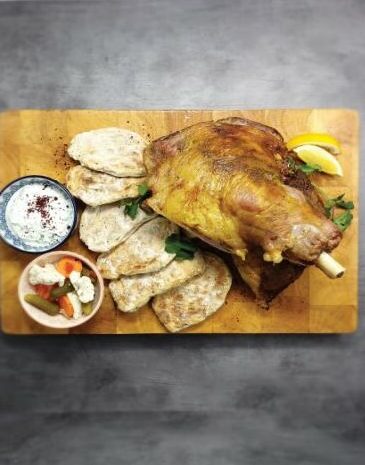 INGREDIENTS
1 x Dry aged Yorkshire lamb 'carvery' leg
2 tablespoons Ras el Hanout
1 lemon – zest and juice
3 tablespoons olive oil
Sea salt
1.5 cups self raising flour
2.5 cups natural yogurt
1 teaspoon bicarbonate of soda
1 tablespoon onion seeds
1 tablespoon sesame seeds
1 tablespoon olive oil
Small bunch coriander
1 teaspoon sumac
1 small jar gherkins
1 small handful cauliflower florets
1 carrot – peeled
3-4 baby corn
METHOD
For your lamb
Ask your friendly butcher to butterfly your lamb.
The day before you intend to cook, rub the lamb with 2 tablespoons of ras el hanout and the zest of 1 lemon. Sit in a tray or large freezer bag in your fridge overnight to marinade. Remove lamb from the fridge 3-4 hours before its required and bring it to room temperature. Rub with oil and a squeeze of lemon. Season liberally with sea salt. Preheat your oven or BBQ as high as it will go. If using a BBQ, carefully place your lamb leg directly on the grill. Seal hard on all sides and then shut the lid of your BBQ. Reduce the heat to approx 180c. For oven cooking, place your lamb on an oven tray and put in the hot oven for 20 minutes to seal. Reduce the heat to 180c.
In both instances, set a timer for 40 minutes.

For your flatbreads
Put your flour, baking soda, seeds and sea salt into a mixing bowl. Make a well in the centre. Mix 1.5 cups yoghurt and olive oil together and pour into the well. Mix together with a wooden spoon or your hands to form a smooth dough. Cover and rest for 10 minutes. Divide your dough into 12 balls and roll out on a floured surface to make 12 discs, approx 5mm thick. Cook your discs in a hot, dry frying pan until charred on one side. Gently flip and cook the other side. Cook in batches and wrap in a clean tea towel
until required.

For your yogurt sauce
Roughly chop your coriander and crush your garlic with a little sea salt. Mix together with the remaining cup of yogurt, serve in a little side bowl and sprinkle with sumac.

For your pickles
Open the jar of gherkins and drain – keep the juice! Slice your carrots thinly and cut the cauliflower and corn into small pieces. Place in a bowl and season liberally. Place your pickle juice in a small saucepan and bring to the boil. Pour the liquid over your vegetables, add your drained gherkins and cover with clingfilm.

To serve
When your timer goes off check your lamb. The internal temperature should be 60c (for pink). Once cooked, remove your lamb and carefully cover with foil. Rest for 30 minutes. To serve, carve your lamb and place on a rustic board or large platter. Warm your flatbreads through in the oven or microwave and serve next to the lamb. Your pickles and yogurt can be made earlier – bring out as required.
Garnish with lemon wedges, fresh coriander, a drizzle of olive oil
and a final sprinkling of sumac. Perfect with a crisp green salad and
a bowl of warm, fruity cous cous