LAMBS LIVER with BACON, MASH & ONION GRAVY
Serves: 4
Prep Time: 40 Mins
Cooking Time: 1 hour, 10 Mins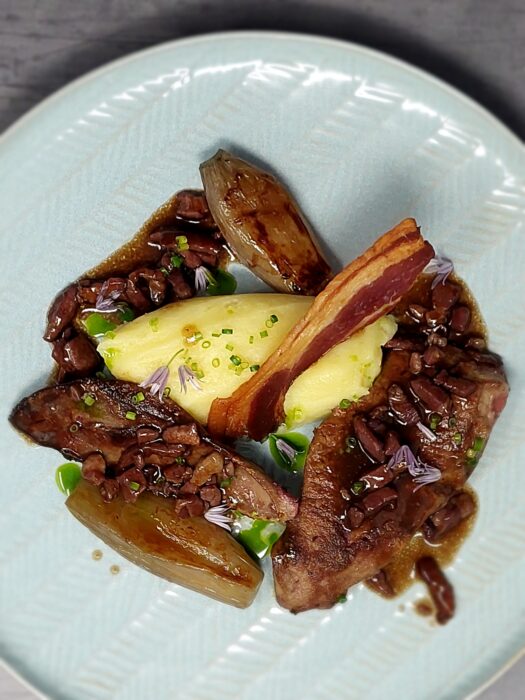 INGREDIENTS
500g lamb's liver – trimmed
4 tablespoons flour
Sea salt
600g Maris piper potatoes
130g butter
Milk
White pepper
10 slices smoked streaky bacon
8 banana shallots – peeled
2 tablespoon olive oil
3 cloves garlic
1 small onion
1 small carrot
1 sprig thyme
1 sprig rosemary
1 bay leaf
1 glass red wine
300ml lamb or beef stock –
hot
METHOD
For the gravy
In a saucepan, place a diced onion, a diced carrot, the garlic, 2 slices of chopped bacon, the thyme, rosemary and bay leaf and sweat on high heat until coloured and soft. Add 2 teaspoons of the flour and cook out for 3-4 minutes, stirring. Add the stock gradually, stirring, to form the gravy base. Simmer for 10-15 minutes. Strain and set aside. Dice 4 rashes of bacon into lardons. In a frying pan, add the bacon with a drizzle of olive oil and fry until golden. Carefully remove any excess fat from the pan and then add the red wine. Stir with a wooden spoon to remove any caught or
burnt bits from the bottom of the pan. Reduce the wine to a syrup
and add the gravy base to the bacon. Season and set aside.
For the mash
Peel and quarter the potatoes and place in a large saucepan. Cover with water and add a good pinch of salt. Bring to the boil and simmer until the potatoes are tender and cooked through. Drain and place the potatoes back into the pan and back onto the heat. Heat on high for 1 minute to steam off any excess moisture.
Mash thoroughly, gradually adding 100g butter a knob at a time. Add a touch of milk to loosen to the required consistency.
Season with white pepper and more salt if required. This can be
done well in advance and reheated.
For the shallots
Preheat the oven to 180c.Peel the shallots and place on a large sheet of tinfoil. Add 10g butter, a drizzle of olive oil, a good sprinkling of salt and a clove of garlic. Wrap tightly and roast for 40 minutes or until soft. Remove and keep warm. Pan fry with the liver to finish

For the liver
Remove the liver from the fridge 30 minutes before cooking to reach room temperature. Mix the flour, a pinch of salt and the paprika together. Toss the liver in the flour to coat lightly. In a hot pan, melt the 20g butter with a drizzle of olive oil. Add the liver and panfry on both side until golden brown. Try to keep the liver a little pink in the middle. Remove from the pan and rest for 3-4 minutes. While resting, cook the remaining 4 slices of bacon until crispy.
To serve
Reheat the mash and gravy. Panfry the shallots to reheat and serve the warm liver, bacon and onions on top of the mash.
Finish with the bacon gravy and some fresh chives.