LEFTOVER PORK MASSAMAN CURRY with COCONUT RICE
Serves: 2
Prep Time: 20 Minutes
Cooking Time: 40 minutes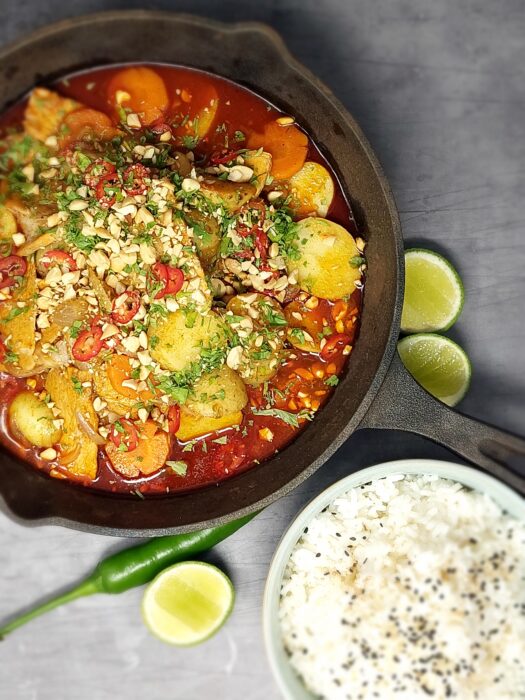 INGREDIENTS
300g leftover roast pork rack
2 heaped tbls Massaman paste
1 teaspoon sesame oil
1 onion – sliced
3 cloves garlic – crushed
1 carrot – sliced
6-8 leftover roast potatoes (or sliced
new potatoes)
1 can coconut milk
1 cup long grain rice
30g salted peanuts
1 red chilli
Small handful coriander
1 lime – zest and juice
Sesame seeds
METHOD
For the curry
In a large frying pan or cast iron pot, gently heat the sesame oil. Add the onions and garlic and fry for 5-6 minutes until lightly coloured and translucent. Add the curry paste and fry for a further 2-3 minutes or until fragrant. Add 1/2 can of coconut milk and 1 cup of water to the pan. Bring to the boil and add the carrots (and the potatoes if you're using sliced new potatoes). Reduce the heat and simmer for 10 minutes or until the carrots and potatoes are almost tender.
Remove the leftover pork from the fridge, trim away any bones or excess fat and slice thinly. Add the pork slices and diced roasted potato (if using) to the pan and warm through. Finish the curry with a squeeze of lime, season with sea salt and allow the curry to stand for 3-4 minutes. Garnish with a healthy sprinkling of chopped peanuts, sliced red chilli and coriander.
For the rice
Preheat the oven to 180c. In a small oven proof dish, place 1 cup of long grain rice and the zest of the lime and season with a sprinkling of sea salt. In a saucepan, place 1 cup of coconut milk and 1 cup of water and bring to the boil. Once boiling, carefully pour the liquid over the rice and cover with foil or a tight fitting lid. Place into the oven for 25 minutes.
Remove the rice from the oven and 'fluff up' with a fork. Garnish with
toasted sesame seeds and serve.