LEMON CRUMBED TURKEY STEAKS WITH BROCCOLI BEAN SMASH
Serves: 2
Prep Time: 25 Mins
Cooking Time: 25 Mins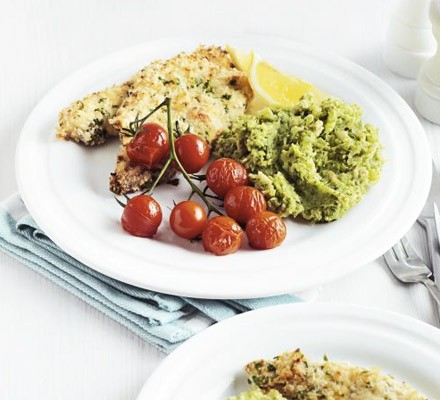 INGREDIENTS
3 tbsp plain flour
1 large egg
100g fresh breadcrumb
zest 1 lemon , plus lemon wedges to serve (optional)
small handful parsley , chopped
2 x 199g turkey breast steaks
2 tbsp sunflower oil
4 vines cherry tomatoes
350g broccoli , cut into small florets
400g can butter bean , drained
4 tbsp pesto
METHOD
Heat oven to 180C/ 160C fan/gas 4. Put the flour into a wide, shallow bowl with a little seasoning. Whisk the egg in a second shallow bowl with 1 tbsp water. Add the breadcrumbs, lemon zest and parsley to a third shallow bowl.
Dip each turkey steak into the flour, shaking off any excess, then into the egg, and finally into the breadcrumbs – press the crumbs into the turkey to make sure they really stick. Put the steaks on a large baking tray, drizzle with oil and bake for 20 mins. Add the cherry tomatoes to the tray and bake for a further 5 mins.
Meanwhile, boil a pan of water, then add the broccoli and cook for 5 mins. Add the butter beans and cook for 2 mins more until broccoli is really tender. Drain well and leave to steam-dry for 1-2 mins. Tip back into the pan, add the pesto and mash everything up with a potato masher. Divide the turkey smash and tomatoes between plates – adding lemon wedges for those who want to squeeze some over.