PAN-ROASTED CHICKEN with MUSHROOMS, WHITE WINE & TARRAGON
Serves: 4
Prep Time: 30 mins
Cooking Time: 40 mins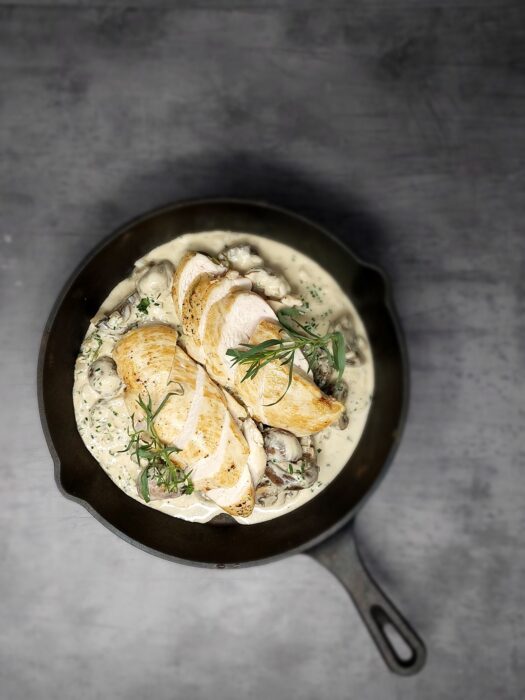 INGREDIENTS
4 x Sykes House Farm chicken fillets
300g chestnut mushrooms – quartered
1 small onion – diced
1 large sprig of thyme
2 cloves garlic – crushed
1/2 glass crisp white wine
1 teaspoon dijon mustard
250ml single cream
1 small handful chopped fresh tarragon
Seas salt
Cracked black pepper
1 knob of butter
1 tablespoon rapeseed oil
METHOD
Preheat your oven to 190c. Remove your chicken from the fridge, leave
out to reach room temperature. Season with salt and pepper.
Heat an oven proof frying pan to high heat. Add your oil and butter to
the pan. Using tongs, place your chicken fillets, presentation side down,
into the pan. Seal until golden brown. Turn over.
To the pan, add your diced onions, garlic and mushrooms and fry for 2 minutes. Transfer pan into the oven with a sprig of thyme. Set your timer for 12 minutes Remove your pan from the oven and place on a high heat. Remove your chicken from the pan and rest somewhere warm. The chicken should have reached 75c. To your pan, add the white wine. Using a wooden spoon, remove any caught or brown bits from the bottom of the pan. This will help flavour your sauce. Add your mustard. Reduce the wine
to a syrup consistency and add your cream. Reduce your sauce to your
desired consistency. Season and finish with the fresh tarragon.

To serve your chicken, slice into 4-5 slices or directly in half on an angle.
Pour any chicken juices back into your sauce.
This is perfect tossed through some warm fettuccine for a midweek
supper or with a fondant potato, some wilted spinach and freshly grated
truffle for something special on the weekend! Serve with copious
amounts of crisp white wine!